Variedad úlcero-mutilante del Síndrome del Túnel Carpiano
Carmen M. Baied

Hospital Naval Cirujano Mayor Doctor Pedro Mallo, Buenos Aires, Argentina

Stella M. Fernández García

Hospital Naval Cirujano Mayor Doctor Pedro Mallo, Buenos Aires, Argentina

Fabio Karlen

Hospital Naval Cirujano Mayor Doctor Pedro Mallo, Buenos Aires, Argentina

Ernesto Gutfraind

Hospital Naval Cirujano Mayor Doctor Pedro Mallo, Buenos Aires, Argentina
Palabras clave:
úlceras digitales, Síndrome del Túnel Carpiano
Resumen
El síndrome del túnel carpiano es la neuropatía por atrapamiento más común, afectando del 1 al 3% de la población general. No obstante, la elevada frecuencia, las úlceras digitales y lesiones en piel son excepcionalmente asociadas a esta neuropatía. Presentamos un caso de un paciente con úlceras digitales secundarias al síndrome del túnel carpiano.
Citas
I. Tosti A, Morella R, D'Alessandro R, Bassi F. Carpal Tunnel Syndrome presenting with ischemic skin lesions, acroosteolysis, and nail changes. J Am Acad Dermatol. 1993; 29: 287-290.
II. Kolawole W, Sanya E, Adebayo P, Musbaudeen O and Hakeem G. Carpal Tunnel. Syndrome and other entrapment neuropathies. Oman Medical Journal (2017), vol. 32, 6:449-454
III. Ormaechea et al. Painless Ulcers on the fingers: An unusual presentation of severe bilateral Carpal Tunnel Syndrome. Actas Dermosifiliogr.2012; 103:159-60.
IV. Cox N, Large M, Paterson W, Ive D et al. Blisters, ulceration and autonomic neuropathy in Carpal Tunnel Syndrome. British Journal of Dermatology 1992,126, 611-613.
V. Khan S, Saeed I. Acral osteolysis in bilateral Carpal Tunnel Syndrome. Radiology case 2008 Aug; 2 (2):3-4.
VI. Herink A, Kote L, Girndt M. Therapie akraler nekrosen bei MCTD: Kombination von iloprost, hyperbarer oxygenation und regionaler sympathikolyse-ein Fallebericht. Medizinische Klinik 2010; 105:837-840.
VII. Markus M, Bell M and Wayne E. Ischemic scleroderma wounds successfully treated with hyperbaric oxygen therapy. Case report. The Journal of Rheumatology 2006; 33:8.
VIII. Réuena C, Requena L, Blanco S et als. Acral ulcerations and osteolysis, a severe form of the carpal tunnel syndrome. British Journal of Dermatology 2004;150:155-177.
IX. Romeo A, Previti M, Giandalia A et als. Ulcero-osteolytic lesions in a woman with type 2 diabetes and carpal tunnel syndrome: a case report and literature review. Diabetes research and clinical practice (2016); 113: 204-207.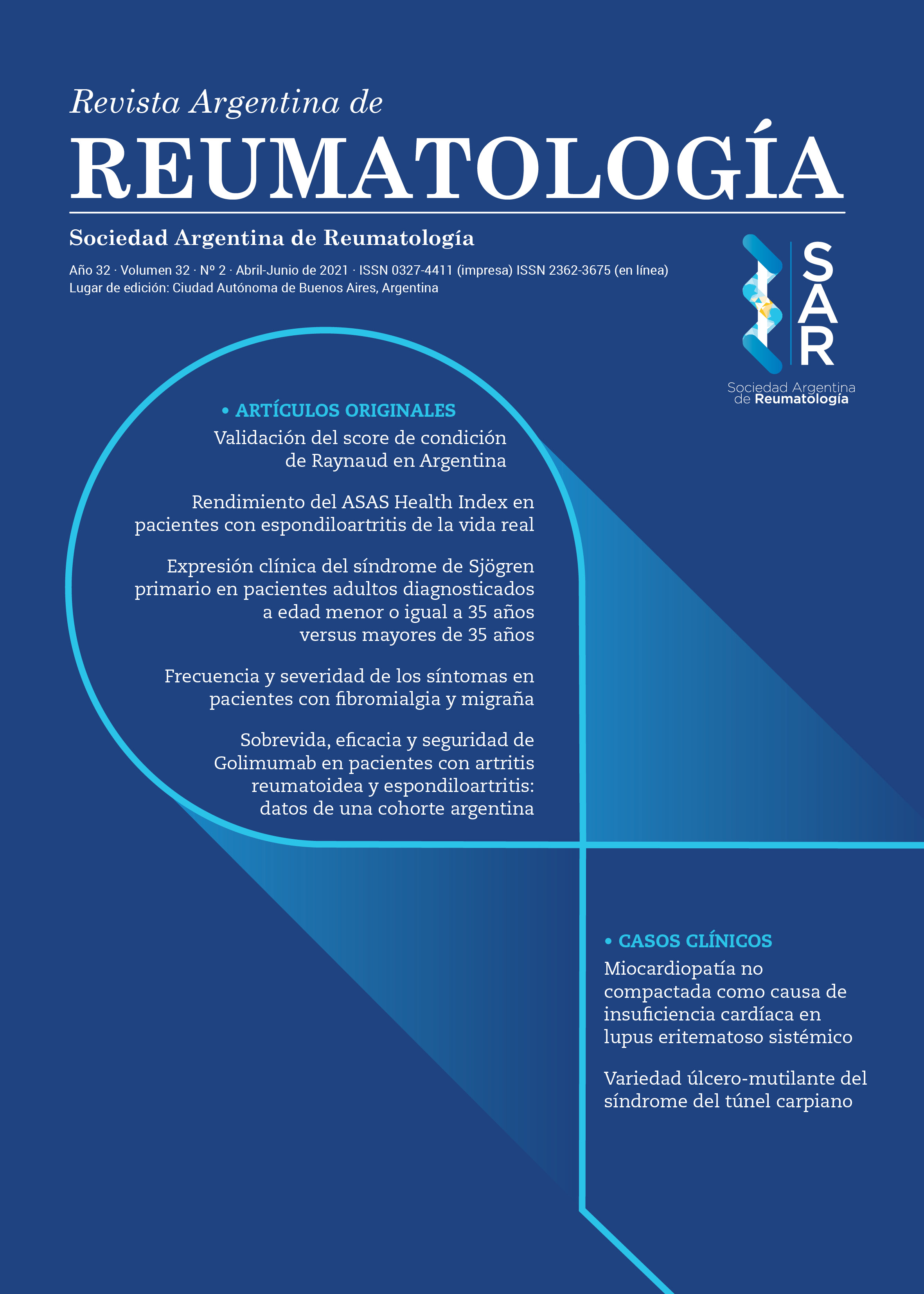 Cómo citar
1.
Baied CM, Fernández García SM, Karlen F, Gutfraind E. Variedad úlcero-mutilante del Síndrome del Túnel Carpiano. Rev. Argent. Reumatol. [Internet]. 1 de junio de 2021 [citado 27 de septiembre de 2023];32(2):37 -39. Disponible en: https://ojs.reumatologia.org.ar/index.php/revistaSAR/article/view/360
Derechos de autor 2021 A nombre de los autores. Derechos de reproducción: Sociedad Argentina de Reumatología
Esta obra está bajo licencia internacional
Creative Commons Reconocimiento-NoComercial-SinObrasDerivadas 4.0
.