Miocardiopatía no compactada como causa de insuficiencia cardíaca en Lupus Eritematoso Sistémico
María Isabel Quaglia

Facultad de Ciencias Médicas, Universidad Nacional de Córdoba, Córdoba, Argentina

Carla Gobbi

Facultad de Ciencias Médicas, Universidad Nacional de Córdoba, Córdoba, Argentina

Carla Alonso

Facultad de Ciencias Médicas, Universidad Nacional de Córdoba, Córdoba, Argentina

Yohana Tissera

Facultad de Ciencias Médicas, Universidad Nacional de Córdoba, Córdoba, Argentina

Rosa Figueroa

Facultad de Ciencias Médicas, Universidad Nacional de Córdoba, Córdoba, Argentina

Verónica Savio

Facultad de Ciencias Médicas, Universidad Nacional de Córdoba, Córdoba, Argentina

Juan Albiero

Facultad de Ciencias Médicas, Universidad Nacional de Córdoba, Córdoba, Argentina

Paula Alba

Facultad de Ciencias Médicas, Universidad Nacional de Córdoba, Córdoba, Argentina
Palabras clave:
miocardiopatía no compactada, Lupus
Resumen
La Miocardiopatía no compactada (MCNC) representa una anomalía de la morfología miocárdica frecuentemente asociada a una etiología genética, sin embargo, hay escasas descripciones de su asociación con enfermedades autoinmunes. Se presenta revisión de la literatura y el caso de una paciente lúpica que ingresa con signos de insuficiencia cardiaca descompensada con confirmación de VINC por ecocardiograma y resonancia magnética nuclear cardiaca (RMN-C).
Citas
I. Lozano David Serrano, Vílchez Francisco González. Miocardiopatía no compactada. Rev.Urug.Cardiol. [Internet]. 2019 Abr [citado 2021 Jun 14] ; 34( 1 ): 284-306. Disponible en: http://www.scielo.edu.uy/scielo.php?script=sci_arttext&pid=S1688-04202019000100284&lng=es. http://dx.doi.org/10.29277/cardio.34.1.20.
II. Freedom RM, Yoo SJ, Perrin D, Taylor G, Petersen S, Anderson RH. The morphological spectrum of ventricular noncompaction. Cardiol Young. 2005; 15(4):345-64.10.1017/S1047951105000752 [Links].
III. Oechslin E, Jenni R. Left ventricular noncompaction revisited: a distinct phenotype with genetic heterogeneity? Eur Heart J. 2011; 32(12):1446-56. doi:10.1093/eurheartj/ehq508 [Links].
IV. Maron BJ, Towbin JA, Thiene G, Antzelevitch C, Corrado D, Arnett D, et al. Contemporary definitions and classification of the cardiomyopathies: an American Heart Association Scientific Statement from the Council on Clinical Cardiology, Heart Failure and Transplantation Committee; Quality of Care and Outcomes Research and Functional Genomics and Translational Biology Interdisciplinary Working Groups; and Council on Epidemiology and Prevention. Circulation 2006; 113(14):1807-16. doi: 10.1161/CIRCULATIONAHA.106.174287 [Links].
V. Richardson P, McKenna W, Bristow M, Maisch B, Mautner B, O'Connell J, et al. Report of the 1995 World Health Organization/International Society and Federation of Cardiology Task Force on the Definition and Classification of cardiomyopathies. Circulation 1996; 93(5):841-2. doi: 10.1161/01. CIR.93.5.841 [Links].
VI. Elliott P, Andersson B, Arbustini E, Bilinska Z, Cecchi F, Charron P, et al. Classification of the cardiomyopathies: a position statement from the European Society of Cardiology Working Group on myocardial and pericardial diseases. Eur Heart J. 2008; 29(2):270-6. doi: 10.1093/eurheartj/ehm342 [Links]
VII. Weir-McCall JR, Yeap PM, Papagiorcopulo C, Fitzgerald K, Gandy SJ, Lambert M, Belch JJ, et al. Left Ventricular Noncompaction: Anatomical Phenotype or Distinct Cardiomiopathy? J Am Coll Cardiol. 2016; 68(20):2157-65. doi: 10.1016/j.jacc. 2016.08.054 [Links].
VIII. Frischknecht BS, Attenhofer Jost CH, Oechslin EN, Seifert B, Hoigne P, Roos M, et al. Validation of noncompaction criteria in dilated cardiomyopathy, and valvular and hypertensive heart disease. J Am Soc Echocardiogr. 2005; 18(8):865-72. doi: 10.1016/j.echo.2005.03.011 [Links].
IX. Dobranici M, Tocitu A, Delcea C, Dan GA. Left Ventricular noncompaction in a patient with systemic lupus erythematosus. Rom J Intern Med. 2019 Mar 1;57(1):78-82. doi: 10.2478/rjim-2018-0032. PMID: 30379642.
X. RABELO CF, BATISTELLA F, GODINHO RN, MACHADO TS, VELHO FJP, STAUB HL. Systemic lupus erythematosus and transient left ventricular noncompaction. Acta Reumatol Port 2014;39:274-6.
XI. OZKOK A, ACAR G, ELCIOGLU OC, BAKAN A, ATILGAN KG, SASAK G, et al. Cardiomyopathy mimicking left ventricular noncompaction in a patient with lupus nephritis. CEN Case Reports 2012;1:69-72.
XII. ASHRAFI R, GARG P, MCKAY E, GOSNEY J, CHUAH S, DAVIS G. Aggressive cardiac involvement in systemic lupus erythematosus: a case report and a comprehensive literature review. Cardiol Res Pract 2011;2011:578390.
XIII. Sedmera D, Pexieder T, Vuillemin M, Thompson RP, Anderson RH. Developmental patterning of the myocardium. Anat Rec. 2000; 258(4):319-37. doi: 10.1002/(SICI)1097-0185(20000401)258:4<319:AID-AR1>3.0.CO;2-O [Links].
XIV. Da Rosa LV, Salemi VM, Alexandre LM, Mady C. Noncompaction cardiomyopathy: a current view. Arq Bras Cardiol. 2011 Jul;97(1):e13-9. English, Portuguese, Spanish. doi: 10.1590/s0066-782x2011000900021. PMID: 21894393.
XV. Attenhofer Jost CH, Connolly HM, O'Leary PW, Warnes CA, Tajik AJ, Seward JB. Left heart lesions in patients with Ebstein anomaly. Mayo Clin Proc. 2005; 80(3):361–8. doi: 10.4065/80.3.361.
XVI. Towbin JA, Bowles NE. The failing heart. Nature 2002; 415(6868):227-33. doi: 10.1038/415227ª.
XVII. Stollberger C, Finsterer J, Blazek G. Isolated left ventricular abnormal trabeculation is a cardiac manifestation of neuromuscular disorders. Cardiology 2000; 94(1):72-6. doi: 10.1159/000007050
XVIII. Gati S, Chandra N, Bennett RL, Reed M, Kervio G, Panoulas VF, et al. Increased left ventricular trabeculation in highly trained athletes: do we need more stringent criteria for the diagnosis of left ventricular non-compaction in athletes? Heart 2013; 99(6):401–8. doi:10.1136/heartjnl-2012-303418
XIX. Stollberger C, Finsterer J. Left ventricular hypertrabeculation/noncompaction. J Am Soc Echocardiogr. 2004; 17(1):91-100. doi: 10.1016/S0894- 7317(03)00514-5
XX. Towbin JA, Lorts A, Jefferies JL. Left ventricular non-compaction cardiomyopathy. Lancet. 2015 Aug 22;386(9995):813-25. doi: 10.1016/S0140-6736(14)61282-4. Epub 2015 Apr 9. PMID: 25865865.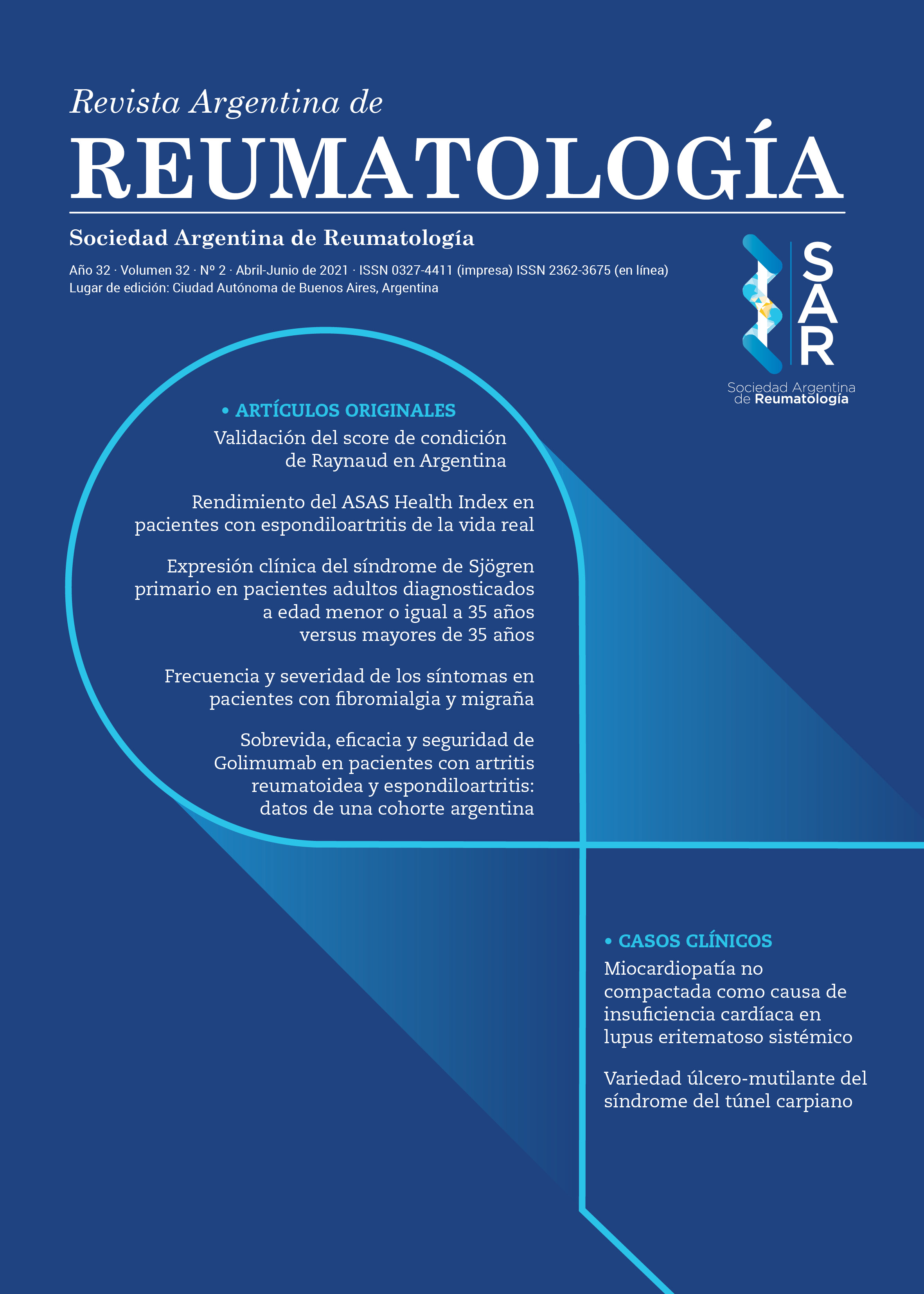 Cómo citar
1.
Quaglia MI, Gobbi C, Alonso C, Tissera Y, Figueroa R, Savio V, Albiero J, Alba P. Miocardiopatía no compactada como causa de insuficiencia cardíaca en Lupus Eritematoso Sistémico. Rev. Argent. Reumatol. [Internet]. 1 de junio de 2021 [citado 16 de mayo de 2022];32(2):33 -6. Disponible en: https://ojs.reumatologia.org.ar/index.php/revistaSAR/article/view/359
Derechos de autor 2021 A nombre de los autores. Derechos de reproducción: Sociedad Argentina de Reumatología
Esta obra está bajo licencia internacional
Creative Commons Reconocimiento-NoComercial-SinObrasDerivadas 4.0
.