Validación del Score de Condición de Raynaud en Argentina
Julieta Silvana Morbiducci

Hospital Bernardino Rivadavia, Ciudad de Buenos Aires, Argentina

María Natalia Tamborenea

Hospital Bernardino Rivadavia, Ciudad de Buenos Aires, Argentina

Félix Romanini

Hospital Bernardino Rivadavia, Ciudad de Buenos Aires, Argentina

Marisel Bejarano

Hospital Bernardino Rivadavia, Ciudad de Buenos Aires, Argentina

Nicolás Lloves

Hospital Bernardino Rivadavia, Ciudad de Buenos Aires, Argentina

Juan Argüello

Hospital Bernardino Rivadavia, Ciudad de Buenos Aires, Argentina

María Cecilia Castro

Hospital Bernardino Rivadavia, Ciudad de Buenos Aires, Argentina

Anastasia Secco

Hospital Bernardino Rivadavia, Ciudad de Buenos Aires, Argentina
Palabras clave:
Fenómeno de Raynaud, esclerosis sistémica, Score de Condición de Raynaud, medidas de evaluación
Resumen
Objetivo: el objetivo de nuestro estudio fue adaptar y validar el Score de Condición de Raynaud (SCR) en pacientes con Esclerosis Sistémica (SSc) que concurren a un hospital público de Argentina. Materiales y Métodos: para la adaptación, reumatólogos tradujeron al español la versión original en inglés. Para evaluar la validez de constructo se utilizó: Cuestionario de Capacidad Funcional HAQ (HAQ), Índice Duruöz (ID), validados al español para Argentina, Escala Visual Análoga (EVA) de Raynaud por un experto y Score de Rodnan modificado (mRSS). Para evaluar reproducibilidad, se evaluó de forma aleatoria un subgrupo de pacientes sin mediar cambios en el tratamiento ni en la condición clínica 10 días después de la evaluación basal. Resultados: Se incluyeron 35 pacientes con diagnóstico de SSc. La correlación entre SCR y EVA del médico fue de 0.89; SCR y HAQ 0.58; SCR y mRSS 0.61; SCR e ID 0.57 indicando una muy buena correlación principalmente con el EVA del médico y siendo todos estadísticamente significativos. La reproducibilidad fue de 0.998. Conclusiones: Los resultados muestran que el SCR es una herramienta confiable y válida para esta población argentina con SSc.
Citas
I. Aspe Unanue L, González Hermosa M & Gardeazabal García, J. Esclerodermia (esclerosis sistémica). 2010; 25(5): 252-266.
II. Mittag M, Beckheinrich P, Haustein, U. Systemic Sclerosis-related Raynaud's Phenomenon: Effects of Iloprost Infusion Therapy on Serum Cytokine, Growth Factor and Soluble Adhesion Molecule Levels. Acta Derm Venereol. 2001; 81(4): 294-297.
III. Hughes M, Allanore Y, Chung L, et al. Raynaud phenomenon and digital ulcers in systemic sclerosis. Nature Reviews Rheumathology. 2020; 16: 208-221.
IV. Takáts A, Garai I, Papp G, et al. Raynaud's syndrome, 2011. Orv Hetil. 2012; 153(11):403-9.
V. Pauling J, Hughes M & Pope J. Raynaud´s phenomenon-an update on diagnosis, classification and management. Clinical Rheumatology. 2019; 38: 3317-3330.
VI. Pope, J. The Diagnosis and Treatment of Raynaud's Phenomenon. A Practical Approach. Drugs. 2007; 67(4): 517-525.
VII. Horimoto A, de Souza A, Rodrigues S, et al. Risk of digital ulcers ocurrence in systemic sclerosis: a cross-sectional study. Advances in Rheumatology. 2019; 59(1): 1-7.
VIII. Tolosa Vilella C, Simeón Aznar CP, Gabarró J. El fenómeno de Raynaud. Medicina Clínica. 2009; 132(18): 712-718.
IX. Pope, J. Measures of Systemic Sclerosis (Scleroderma): Health Assessment Questionnaire (HAQ) and Scleroderma HAQ (SHAQ), physician- and patient-rated global assessments, Symptom Burden Index (SBI), University of California, Los Angeles, Scleroderma Clinical Trials Consortium Gastrointestinal Scale (UCLA SCTC GIT) 2.0, Baseline Dyspnea Index (BDI) and Transition Dyspnea Index (TDI) (Mahler's Index), Cambridge Pulmonary Hypertension Outcome Review (CAMPHOR), and Raynaud's Condition Score (RCS). Arthritis Care & Research. 2011; 63 Suppl 11:S98-S111.
X. Merkel P, Herlyn K, Martin R, et al. Measuring Disease Activity and Functional Status in Patients With Scleroderma and Raynaud's Phenomenon. Arthritis & Rheumatism. 2002; 46(9): 2410-2420.
XI. Van den Hoogen F, Khanna D, Fransen J, et al. 2013 Classification Criteria for Systemic Sclerosis: An American Collage of Rheumatology/European League Against Rheumatism Collaborative Initiative. Annals of the Rheumatic Disease. 2013; 72(11): 1747-55.
XII. Citera G, Arriola M, Maldonado-Cocco, Rosemffet M, et al. Validation and Crosscultural Adaptation of an Argentine Spanish Version of the Health Assessment Questionnaire Disability Index. J Clin Rheumatol. 2004; 10(3): 110–115.
XIII. Duarte V, Martire, V, Crespo Amaya G, et al. Validación del índice de Duruöz en una población argentina con esclerodermia. Revista Argentina de Reumatología. 2015; 26(2): 23-26.
XIV. Khanna D, Furst DE, Clements PJ, et al. Standardization of the modified Rodnan skin score for use in clinical trials of systemic sclerosis. J Scleroderma Relat Disord. 2017; 2(1): 11–18.
XV. LeRoy EC, Black C, Fleischmajer R, Jablonska S, Krieg T, et al. Scleroderma (systemic sclerosis): classification, subsets and pathogenesis. J Rheumatol. 1988; 15(2): 202-205.
XVI. Beaton D, Bobbardier C, Guillemin F, et al. Guidelines for the Process of Cross-Cultural Adaptation of Self-Report Measures. Spine. 2000; 25(24): 3186-91.
XVII. Guillemin F, Bombardier C, Beaton D. Cross-cultural adaptation of health related quality of life measures: literature review and proposed guidelines. J Clin Epidemiol. 1993; 46(12): 1417-32.
XVIII. Wigley F, Korn J, Csuka M, et al. Oral iloprost treatment in patients with Raynaud´s phenomenon secondary to systemic sclerosis: a multicenter, placebo-controlled, double-blind study. Arthritis Rheum. 1998; 41(4): 670-7.
XIX. Khouri C, Blaise S, Guigui A, et al. French translation and linguistic validation of the Raynaud´s condition score. Therapies. 2019; 74(6): 627-631.
XX. Khanna P, Maranian P, Gregory J, et al. The minimally important difference and patient acceptable symptom state for the Raynaud´s condition score in patients with Raynaud´s phenomenon in a large randomised controlled clinical trial. 2009; 63(3): 588-591.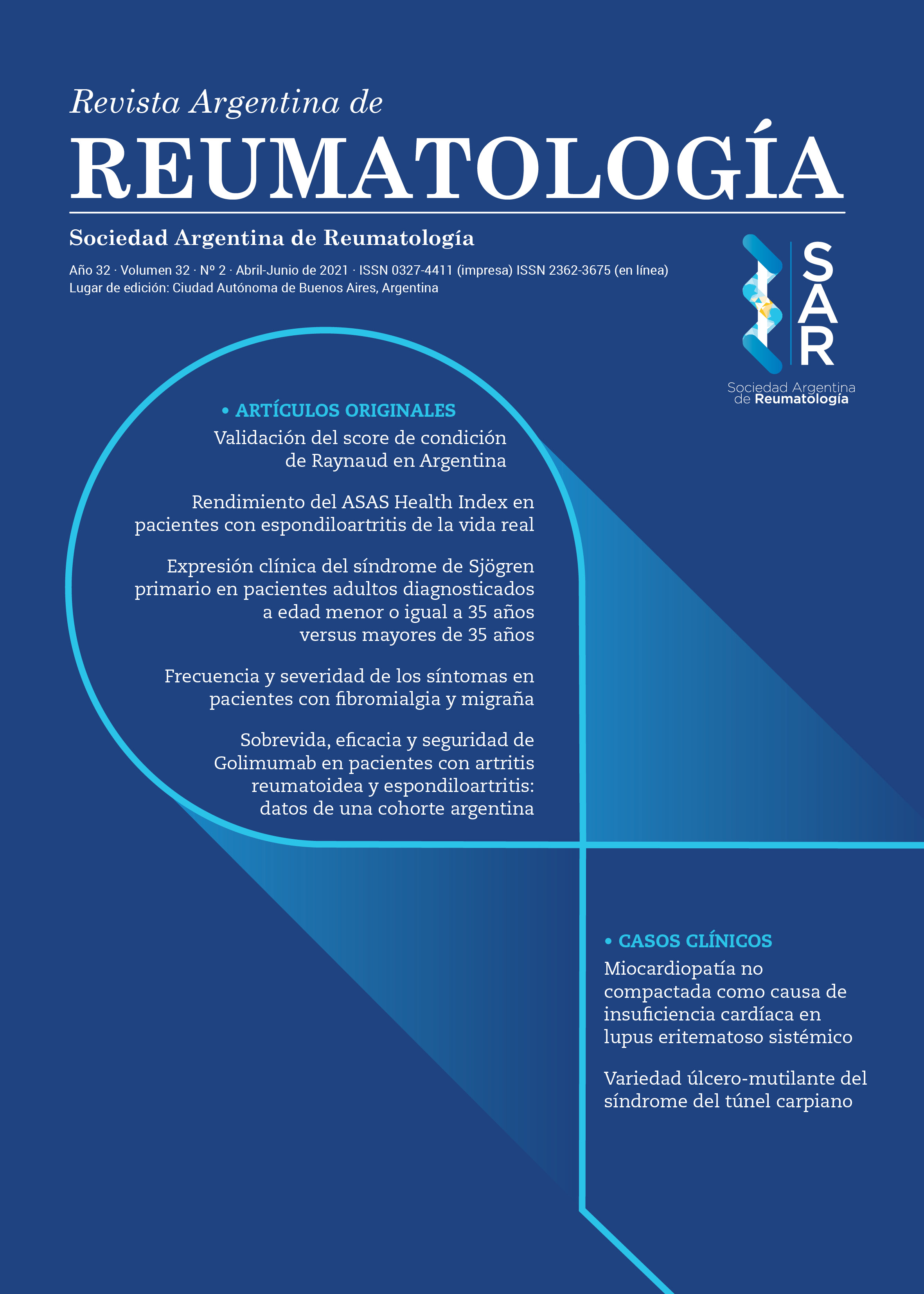 Cómo citar
1.
Morbiducci JS, Tamborenea MN, Romanini F, Bejarano M, Lloves N, Argüello J, Castro MC, Secco A. Validación del Score de Condición de Raynaud en Argentina. Rev. Argent. Reumatol. [Internet]. 1 de junio de 2021 [citado 1 de junio de 2023];32(2):5 -8. Disponible en: https://ojs.reumatologia.org.ar/index.php/revistaSAR/article/view/354
Sección
Artículo Original
Derechos de autor 2021 A nombre de los autores. Derechos de reproducción: Sociedad Argentina de Reumatología
Esta obra está bajo licencia internacional
Creative Commons Reconocimiento-NoComercial-SinObrasDerivadas 4.0
.