Causas de admisión hospitalaria y factores pronósticos en pacientes con vasculitis asociadas a anticuerpos anti-citoplasma de neutrófilo
Sebastian Andres Muñoz

Hospital General de Agudos Juan A. Fernández, Ciudad Autónoma de Buenos Aires, Argentina

Ignacio Javier Gandino

Hospital General de Agudos Juan A. Fernández, Ciudad Autónoma de Buenos Aires, Argentina

María Cristina Basta

Hospital General de Agudos Juan A. Fernández, Ciudad Autónoma de Buenos Aires, Argentina

Alberto Omar Orden

Clínica San Camilo, Ciudad Autónoma de Buenos Aires, Argentina
Palabras clave:
vasculitis, anticuerpos anti-citoplasma de neutrófilo, admisión hospitalaria
Resumen
Antecedentes: Existen pocos estudios descriptivos sobre las causas de internación de los pacientes con vasculitis asociadas a ANCA (VAA), todos son retrospectivos y realizados en unidades de cuidados intensivos. Objetivo: Investigar la epidemiología, los hallazgos clínicos y la evolución de los pacientes con VAA durante su internación, e identificar los factores pronósticos asociados a mortalidad. Materiales y métodos: Se incluyeron los pacientes con diagnóstico de VAA internados en el Hospital Juan A. Fernández y la Clínica San Camilo (Ciudad Autónoma de Buenos Aires, Argentina), entre el 1 de enero de 2011 y el 31 de diciembre de 2013. Resultados: Treinta y cuatro pacientes fueron incluidos, 18 (53%) de sexo femenino. Edad media de 60 ± 12 años. En 9 (26%) pacientes el diagnóstico de VAA se realizó en la internación. La Poliangeítis Microscópica (MPA) fue la vasculitis más común (50%). Dieciocho (53%) pacientes se internaron por actividad clínica de la vasculitis. Órganos/sistemas afectados: pulmón (n=9), riñón (n=6), otorrinolaringológicas (n=5), sistema nervioso periférico (n=5) y piel (n=2). Ocho (23,5%) pacientes fueron admitidos por complicaciones infecciosas y ocho por otras causas. Fallecieron 8 (23,5%) pacientes, 3 debido a actividad de la vasculitis, 4 debido a complicaciones infecciosas y 1 por falla multiorgánica (2º infusión pamidronato). Los que ingresaron a UCI tuvieron mayor mortalidad (p=0,001); el sexo (p=0,69), la edad (p=0,15), el diagnóstico "de novo" de vasculitis (p=0,4), el BVAS y VDI no mostraron diferencias entre los sobrevivientes y fallecidos. La mortalidad de los pacientes que ingresaron por actividad de la vasculitis comparado con los que ingresaron por complicaciones infecciosas fue similar (p=0,6). Conclusiones: La causa más frecuente de internación en pacientes con VAA fue la actividad de la enfermedad, seguida por las causas infecciosas. La mortalidad fue elevada y su principal causa fueron las infecciones independientemente del diagnóstico al ingreso.
Citas
I. Jennette JC, Falk RJ, Bacon PA, et al. 2012 Revised International Chapel Hill Consensus Conference Nomenclature of Vasculitides. Arthritis Rheum 2013; 65(1):1-11.
II. Mukhtyar C, Guillevin L, Cid M, et al. EULAR recommendations for the management of primary small and medium vessel vasculitis. Ann Rheum Dis 2009; 68:310-317.
III. Schönermarck U, Gross WL, de Groot K. Treatment of ANCA-associated vasculitis. Nat Rev Neprhol 2013; Nov 5. doi: 10.1038/nrneph.2013.225. [Epub ahead of print]
IV. Little MA, Nightingale P, Verburgh CA, et al. Early mortality in systemic vasculitis: relative contribu-tion of adverse events and active vasculitis. Ann Rheum Dis 2011; 69:1036-1043.
V. Wall N, Harper L. Complication of long-term the-rapy for ANCA-associated systemic vasculitis. Nat Rev Nephrol 2012; 8:523-532.
VI. Jones RB, Tervaert JW, Hauser T, et al. Rituximab versus cyclophosphamide in ANCA-associated re-nal vasculitis. N Engl J Med 2010; 363(3):211-220.
VII. Stone JH, Merkel PA, Spiera R, et al. Rituximab versus cyclophosphamide for ANCA-associated vasculitis. N Engl J Med 2010; 363(3):221-232.
VIII. Cruz BA, Ramanoelina J, Mahr A, et al. Prognosis and outcome of 26 patients with systemic necroti-zing vasculitis admitted to the intesive care unit. Rheumatology 2003; 42:1183-1188.
IX. Khan SA, Subla MR, Behl D, Specks U, Afessa B. Outcome of patients with small-vessel vasculitis ad-mitted to a medical ICU. Chest 2007; 131(4):972-976.
X. Frausova D, Brejnikova M, Hruskova Z, Rihova Z, Tesar V. Outcome of thirty patients with ANCA-associated renal vasculitis admitted to the intensive care unit. Ren Fail 2008; 30(9):890-895.
XI. Befort P, Corne P, Filleron T, et al. Prognosis and ICU outcome of systemic vasculitis. BMC Anesthe-siology 2013; 13:27-33.
XII. Hunder GG, Arend WP, Bloch DA, et al. The Ame-rican College of Rheumatology 1990 criteria for the classification of vasculitis. Arthritis Rheum 1990; 33:1065-1067.
XIII. Jennette JC, Falk RJ, Andrassy K, et al. Nomen-clature of systemic vasculitides: the proposal of an international consensus conference. Arthritis Rheum 1994; 37:187-192.
XIV. Hellmich B, Flossmann O, Gross WL, et al. EU-LAR Recommendations for Conducting Clinical Studies and/or Trials in systemic vasculitis: Focus on ANCA-associated vasculitis. Ann Rheum Dis 2007; 66(5):605-617.
XV. Mukhtyar C, Lee R, Brown D, et al. Modifica-tion and validation of the Birmingham Vasculitis Activity Score (version 3). Ann Rheum Dis 2009; 68(12):1827-1832.
XVI. Exley AR, Bacon PA, Luqmani RA, et al. Deve-lopment and initial validation damage index for the standardized clinical assessment of damage in the systemic vasculitides. Arthritis Rheum 1997; 40(2):371-340.
XVII. Watts RA, Gonzalez-Gay MA, Lane SE, et al. Geoepidemiology of systemic vasculitis: compari-son of the incidence in two regions of Europe. Ann Rheum Dis 2001; 60:170-172.
XVIII. Watts RA, Lane SE, Scott DG, et al. Epidemiolo-gy of vasculitis in Europe. Ann Rheum Dis 2001; 60:1156-1157.
XIX. Ntatsaki E, Watts RA, Scott DG. Epidemiology of ANCA-associated vasculitis. Rheum Dis Clin Nor-th Am 2010; 36:447-461.
XX. Gibson A, Stamp LK, Chapman PT, el al. The epidemiology of Wegener's granulomatosis and mi-croscopic polyangeiitis in a Southern Hemisphere region. Rheumatology (Oxford) 2006; 45:624-628.
XXI. Semple D, Keogh J, Forni L, Venna R. Clinical re-view: Vasculitis in the intensive care unit, part 2: Treatment and prognosis. Crit Care 2005; 9:193-197.
XXII. Kollef MH, Enzenauer RJ. Predicting outcome from intensive care for patients with rheumatologic disea-se. J Rheumatol 1992; 19:1260-1262.
XXIII. Cervera R, Khamashta M, Font J, et al. Morbidi-ty and mortality in systemic lupus erythematosus during a 5-year period. A multicenter prospective study of 1000 patients. European Working Party on Systemic Lupus Erythematosus. Medicine (Balti-more) 1999; 78:167-175.
XXIV. Godeau B, Mortier E, Roy PM, et al. Short and long-term outcomes for patients with systemic rheumatic diseases admitted to intensive care units: a prognostic study of 181 patients. J Rheumatol 1997; 24:1317-1323.
XXV. Gallagher H, Kwan JT, Jayne DR. Pulmonary renal syndrome: a 4-year, single-center experience. Am J Kidney Dis 2002; 39:42-47.
XXVI. Jayne DR, Rasmussen N, Andrassy K, et al. A ran-domized trial of maintenance therapy for vasculitis associated with antineutrophil cytoplasmic autoan-tibodies. N Eng J Med 2003; 349:36-44.
XXVII. Booth AD, Almond MK, Burns A, et al. Outco-me of ANCA-associated renal vasculitis: a 5-year retrospective study. Am J Kidney Dis 2003; 41:776-784.
XXVIII. Raffin TA. Intensive care unit survival patients with systemic illness. An Rev Respir Dis 1989; 140:S28-S35.
XXIX. Rihova Z, Jancova E, Merta M, et al. A long-term outcome of patients antineutrophil cytoplasmic autoantibodies-associated vasculitis with renal di-sease. Kidney Blood Press Res 2005; 28:144-152.
XXX. Mukthyar C, Flossmann O, Hellmich B, et al. Outcome from studies of antineutrophil cytoplasm antibody associated vasculitis: a systematic review by the European League Against Rheumatism sys-tematic vasculitis task force. Ann Rheum Dis 2008; 67:1004-1010.
XXXI. Koldingsnes W, Nossent JC. Baseline features and initial treatment as predictors of remission and re-lapse in Wegener Granulomatosis. J Rheumatol 2003; 30:80-88.
XXXII. Exley A, Carruthers DM, Luqmani RA, et al. Da-mage occurs early in systemic vasculitis and is an index of outcome. QJM 1997; 90:391-399.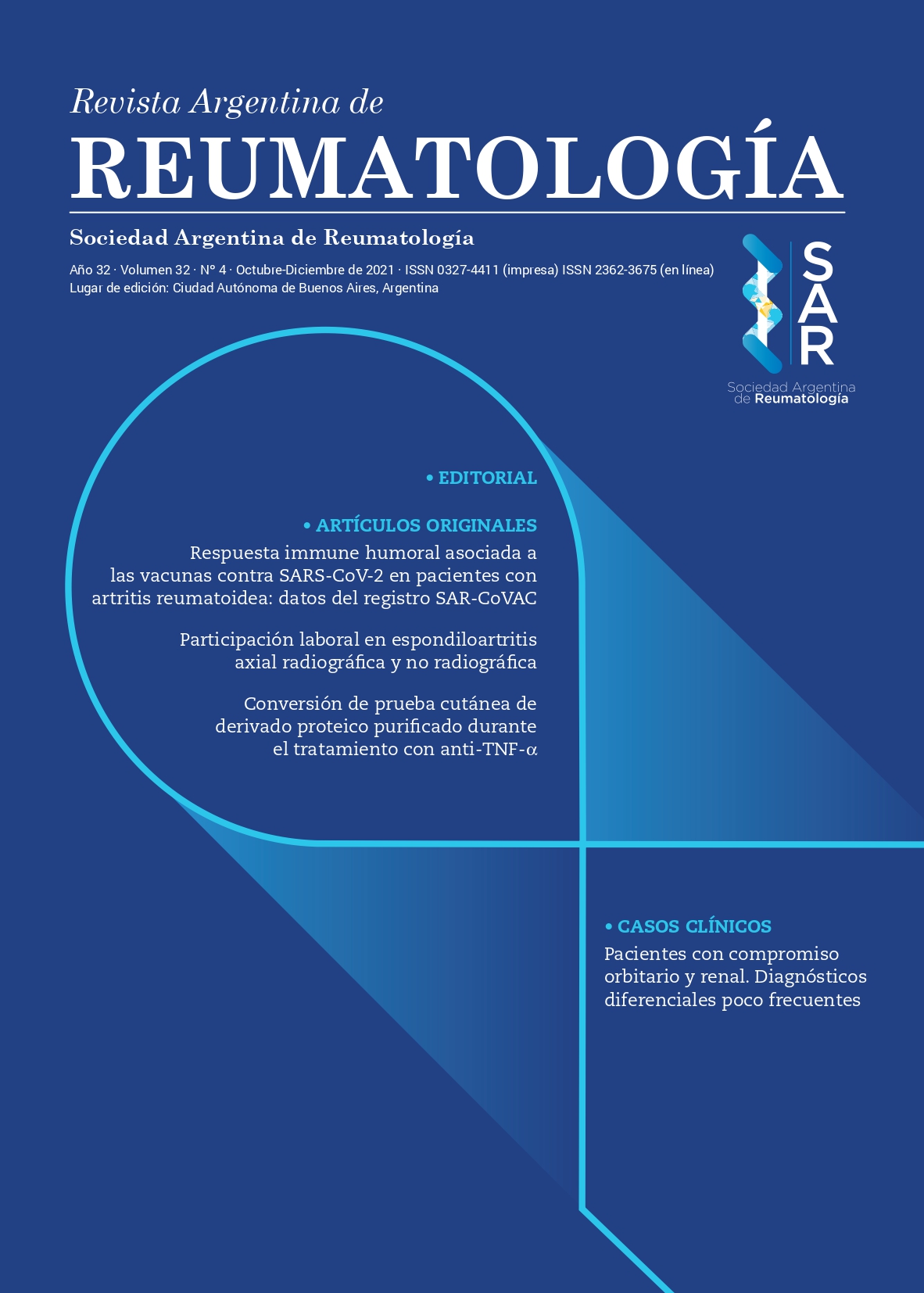 Cómo citar
1.
Muñoz SA, Gandino IJ, Basta MC, Orden AO. Causas de admisión hospitalaria y factores pronósticos en pacientes con vasculitis asociadas a anticuerpos anti-citoplasma de neutrófilo. Rev. Argent. Reumatol. [Internet]. 1 de marzo de 2014 [citado 22 de marzo de 2023];25(1):8 - 14. Disponible en: https://ojs.reumatologia.org.ar/index.php/revistaSAR/article/view/9
Sección
Artículo Original
Derechos de autor 2014 Revista Argentina de Reumatología
Esta obra está bajo licencia internacional
Creative Commons Reconocimiento-NoComercial-SinObrasDerivadas 4.0
.