Vasculitis leucocitoclástica posterior a vacuna contra la COVID-19
Federico Ceccato

Sanatorio Premed, Santa Fe, Argentina

Josefina T. Weidmann

Sanatorio Premed, Santa Fe, Argentina

Paula Difilippo

Sanatorio Premed, Santa Fe, Argentina

Agustina Albrecht

Sanatorio Premed, Santa Fe, Argentina
Palabras clave:
vacunas, vasculitis, vacunas contra la COVID-19, evento adverso atribuible a la vacunación
Resumen
Varios reportes comunicaron diferentes tipos de vasculitis en asociación temporal con una variedad de vacunas, y más recientemente con las vacunas para enfermedad por SARS-CoV-2 (COVID-19). Sin embargo, la escasez de estudios controlados y la heterogeneidad metodológica de los reportes no permiten una conclusión clara sobre su relación causal. Informamos el caso de un varón que desarrolló vasculitis leucocitoclástica, confirmada por biopsia de piel y sin compromiso sistémico, luego de la inmunización contra la COVID-19 con la vacuna de AstraZeneca.
Citas
I. Guimarães LE, Baker B, Perricone C, Shoenfeld Y. Vaccines, adjuvants and autoimmunity. Pharmacol Res 2015;100:190-209. doi: 10.1016/j.phrs.2015.08.003.
II. Felicetti P, Trotta F, Bonetto C, et al. Spontaneous reports of vasculitis as an adverse event following immunization. A descriptive analysis across three international databases. Vaccine 2016;34(51):6634-6640. doi: 10.1016/j.vaccine.2015.09.027.
III. Molina V, Shoenfeld Y. Infection, vaccines and other environmental triggers of autoimmunity. Autoimmunity 2005;38(3):235-245. doi: 10.1080/08916930500050277.
IV. Olivieri B, Betterle C, Zanoni G. Vaccinations and autoimmune diseases. Vaccines (Basel). 2021;9(8):815. doi: 10.3390/vaccines9080815.
V. Abdelmaksoud A, Wollina U, Temiz SA, Hasan A. SARS-CoV-2 vaccination-induced cutaneous vasculitis: Report of two new cases and literature review. Dermatologic Therapy 2022; 35(6): e15458. doi:10.1111/dth.15458.
VI. Sugita K, Kaneko S, Hisada R, et al. Development of IgA vasculitis with severe glomerulonephritis after COVID-19 vaccination: a case report and literature review. CEN Case Rep (2022). doi: 10.1007/s13730-022-00695-1.
VII. Lai CC, Chen IT, Chao CM, Lee PI, Ko WC, Hsueh PR. COVID-19 vaccines: concerns beyond protective efficacy and safety. Expert Rev Vaccines 2021;20(8):1013-1025. doi: 10.1080/14760584.2021.1949293.
VIII. Geisen UM, Berner DK, Tran F, et al. Immunogenicity and safety of anti-SARS-CoV-2 mRNA vaccines in patients with chronic inflammatory conditions and immunosuppressive therapy in a monocentric cohort. Ann Rheum Dis 2021;80(10):1306-1311. doi: 10.1136/annrheumdis-2021-220272.
IX. Jara LJ, Vera-Lastra O, Mahroum N, Pineda C, Shoenfeld Y. Autoimmune post-COVID vaccine syndromes: does the spectrum of autoimmune/inflammatory syndrome expand? Clin Rheumatol 2022;41(5):1603-1609. doi: 10.1007/s10067-022-06149-4.
X. Izci-Duran T, Turkmen E, Dilek M, Sayarlioglu H, Arik N. ANCA-associated vasculitis after COVID-19. Rheumatol Int 2021;41(8):1523-1529. doi: 10.1007/s00296-021-04914-3.
XI. Mettler C, Jonville-Bera AP, Grandvuillemin A, Treluyer JM, Terrier B, Chouchana L. Risk of giant cell arteritis and polymyalgia rheumatica following COVID-19 vaccination: a global pharmacovigilance study. Rheumatology (Oxford) 2022;61(2):865-867. doi: 10.1093/rheumatology/keab756.
XII. Shoenfeld Y, Agmon-Levin N. 'ASIA' - autoimmune/inflammatory syndrome induced by adjuvants. J Autoimmun 2011;36(1):4-8. doi: 10.1016/j.jaut.2010.07.003.
XIII. Kashir J, Ambia AR, Shafqat A, Sajid MR, AlKattan K, Yaqinuddin A. Scientific premise for the involvement of neutrophil extracellular traps (NETs) in vaccine-induced thrombotic thrombocytopenia (VITT). J Leukoc Biol 2022;111(3):725-734. doi: 1002/JLB.5COVR0621-320RR.
XIV. Chen Y, Xu Z, Wang P, et al. New-onset autoimmune phenomena post-COVID-19 vaccination. Immunology 2022;165(4):386-401. doi: 10.1111/imm.13443.
XV. Bonetto C, Trotta F, Felicetti P, et al. Vasculitis as an adverse event following immunization. Systematic literature review. Vaccine 2016;34(51):6641-6651. doi: 10.1016/j.vaccine.2015.09.026.
XVI. Hoffman GS, Calabrese LH. Vasculitis: determinants of disease patterns. Nat Rev Rheumatol 2014;10(8):454-462. doi: 10.1038/nrrheum.2014.89.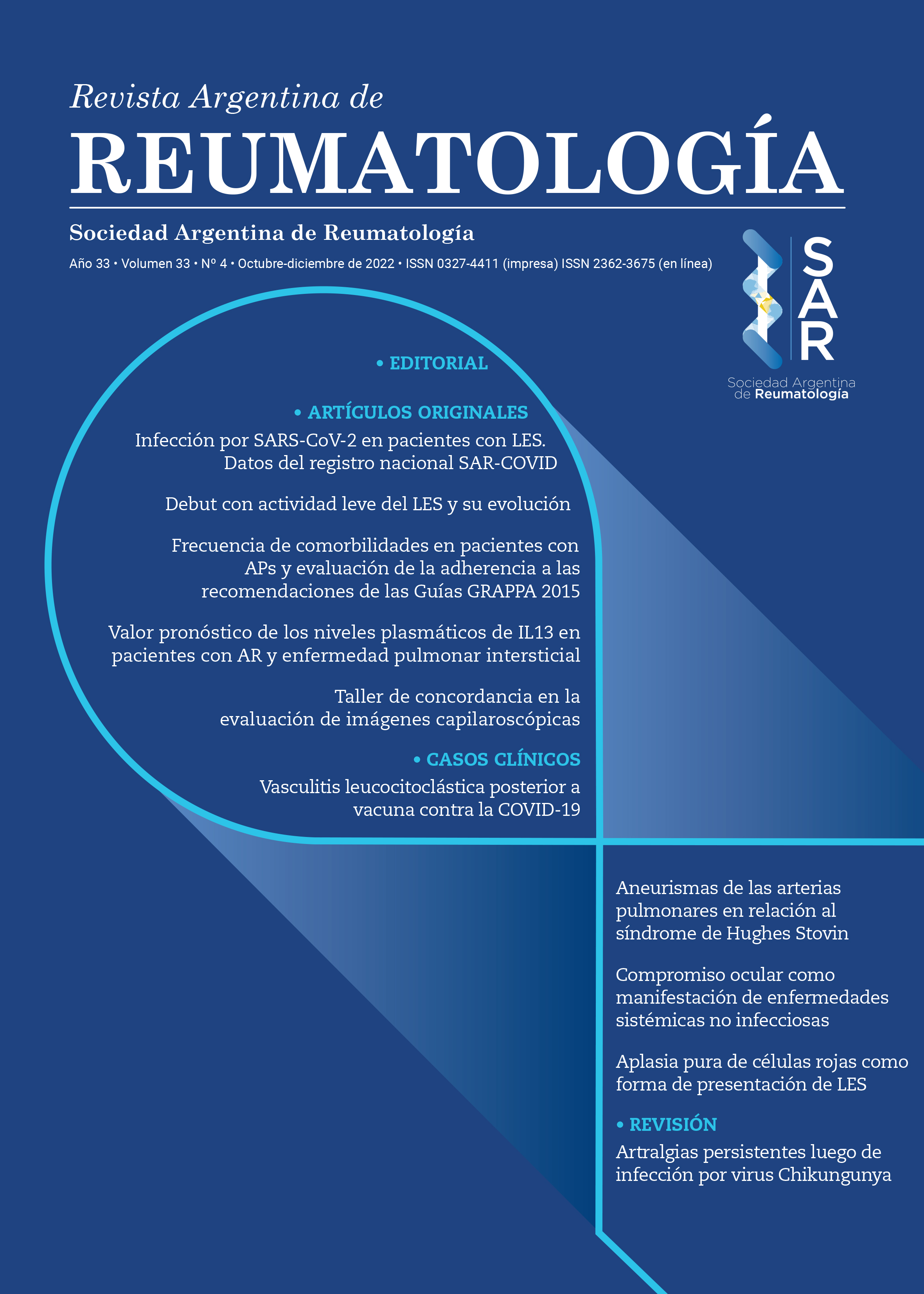 Cómo citar
1.
Ceccato F, Weidmann JT, Difilippo P, Albrecht A. Vasculitis leucocitoclástica posterior a vacuna contra la COVID-19. Rev. Argent. Reumatol. [Internet]. 19 de diciembre de 2022 [citado 29 de marzo de 2023];33(4):228 -231. Disponible en: https://ojs.reumatologia.org.ar/index.php/revistaSAR/article/view/681
Derechos de autor 2022 A nombre de los autores. Derechos de reproducción: Sociedad Argentina de Reumatología
Esta obra está bajo licencia internacional
Creative Commons Reconocimiento-NoComercial-SinObrasDerivadas 4.0
.