Reticulohistiocitosis multicéntrica: una gran simuladora dentro de la Reumatología
Oscar Andrés Caicedo

Hospital General de Agudos Dr. Enrique Tornú, Ciudad Autónoma de Buenos Aires, Argentina

María Alejandra Medina

Hospital General de Agudos Dr. Enrique Tornú, Ciudad Autónoma de Buenos Aires, Argentina

José Ángel Caracciolo

Hospital General de Agudos Dr. Enrique Tornú, Ciudad Autónoma de Buenos Aires, Argentina

Silvia Beatriz Papasidero

Hospital General de Agudos Dr. Enrique Tornú, Ciudad Autónoma de Buenos Aires, Argentina
Palabras clave:
reticulohistiocitosis multicéntrica, simulación
Resumen
La reticulohistiocitosis multicéntrica (RHM) es una histiocitosis de células no Langerhans, multisistémica, rara, caracterizada por afectación cutánea y articular, que poco frecuentemente afecta a otros órganos. El diagnóstico se basa en hallazgos clínicos y resultados de biopsias de piel o sinovial, sin describirse un parámetro de laboratorio específico. Realizamos una revisión de la literatura en relación a las características clínicas de esta entidad desde el punto de vista reumatológico.
Citas
I. Goltz R, Laymon C. Multicentric reticulohistiocytosis of the skin and synovia; reticulohistiocytoma or ganglio- neuroma. AMA Arch Derm Syphilol 1954;69(6):717-731.

II. Emile JF, Abla O, Fraitag S, Horne A, Haroche J, Dona- dieu J, et al. Revised classi cation of histiocytoses and neoplasms of the macrophage-dendritic cell lineages. Blood 2016;127(22):2672-2681.

III. Zayid I, Farraj S. Familial histiocytic dermatoarthritis. A new syndrome. Am J Med. 1973;54(6):793-800.

IV. Tariq S, Hugenberg ST, Hirano-Ali SA, Tariq H. Multi- centric reticulohistiocytosis (MRH): case report with re- view of literature between 1991 and 2014 with in depth analysis of various treatment regimens and outcomes. Springerplus 2016;5:180.

V. Hsu S, Ward S, Le E, Lee J. Multicentric reticulohistio- cytosis with neuro broma-like nodules. J Am Acad Der- matol 2001;44(2):373-375.

VI. Fett N, Liu RH. Multicentric reticulohistiocytosis with 18. dermatomyositis-like features: a more common disease presentation than previously thought. Dermatology 2011;222(2):102-108.

VII. McIlwain KL, DiCarlo J, Miller S, Lim S. Multicentric re- ticulohistiocytosis with prominent cutaneous lesions and proximal muscle weakness masquerading as dermatomyositis. J Rheumatol. 2005; 32:193-194.

VIII. Muñoz-Santos C, Sàbat M, Sáez A, Gratacós J, Luelmo J. Multicentric reticulohistiocytosis-mimicking derma- tomyositis. Case report and review of the literature. Dermatology 2007;214 (3):268-271.

IX. Camargo K, Pinkston O, Abril A, Sluzevich J. Xanthoma- tous multicentric reticulohistiocytosis. J Clin Rheuma- tol 2018; 24(5):285-287.

X. Gold RH, Metzger AL, Mirra JM, Weinberger HJ, Killebrew K. Multicentric reticulohistiocytosis (lipoid dermato- arthritis). An erosive polyarthritis with distinctive clinical, roentgenographic and pathologic features. Am J Roentgenol Radium Ther Nucl Med 1975;124(4):610-624.

XI. Kumar A, Bhat A, Misra R, Malaviya A, Suri R. Multicen- tric reticulohistiocytosis mimicking rheumatoid arthri- tis. Clin Exp Rheumatol 1985;3(4):360-361.

XII. Saba R, Kwatra SG, Upadhyay B, Mirrakhimov AE, Khan FN. Multicentric reticulohistiocytosis presenting with papulonodular skin lesions and arthritis mutilans. Case Rep Rheumatol 2013;2013:1-4.

XIII. Santilli D, Lo Monaco A, Cavazzini P, Trotta F. Multicen- tric reticulohistiocytosis: a rare cause of erosive arthro- pathy of the distal interphalangeal nger joints. Ann Rheum Dis 2002; 61(6):485-487.

XIV. Anderson TE, Carr AJ, Chapman RS. Myositis and myo- tonia in a case of multicentric reticulohistiocytosis. Br J Dermatol 1968;80:39-45.

XV. Furey N, Di Mauro J, Eng A, Shaw J. Multicentric reticu- lohistiocytosis with salivary gland involvement and pe- ricardial effusion. J Am Acad Dermatol 1983;8(5):679-685.

XVI. Yee KC, Bowker CM, Tan CY, Palmer RG. Cardiac and sys- temic complications in multicentric reticulohistiocyto- sis. Clin Exp Dermatol 1993;18(6):555-558.

XVII. Benucci M, Sulla A, Manfredi M. Cardiac engagement in multicentric reticulohistiocytosis: report of a case with fatal outcome and literature review. Intern Emerg Med 2008;3(2):165-168.

XVIII. West K, Sporn T, Puri P. Multicentric reticulohistiocyto- sis: a unique case with pulmonary brosis. Arch Der- matol 2012;148(2):228-232.

XIX. Yoshimura K, Sato J, Imokawa S, Kageyama H, Toku- ra Y, Suda T. Organizing pneumonia associated with multicentric reticulohistiocytosis. Respirol Case Rep 2015;3(4):125-127.

XX. Corominas H, Villareal J, Estrada P, Roig-Vilaseca D, To- rrente-Segarra V, Reina D. Nailfold capillary patterns in a patient with multicentric reticulohistiocytosis and Ray- naud phenomenon. J Clin Rheumatol 2016;22(4):220-221.

XXI. Zeale P, Miner D, Honig S, Waxman M, Bart eld H. Multicentric reticulohistiocytosis: a cause of dyspha- gia with response to corticosteroids. Arthritis Rheum 1985;28(2):231-234.

XXII. Malhotra R, Pribitkin E, Bough ID J, Stone G, Palazzo J. Up- per airway involvement in multicentric reticulohistio- cytosis. Otolaryngol Head Neck Surg 1996;114(4):661-664.

XXIII. Yang H, Ding Y, Deng Y. Multicentric reticulohistiocyto- sis with lungs and liver involved. Clin Exp Dermatol 2009;34(2):183-185.

XXIV. Asano T, Suzutani K, Watanabe A. The utility of FDG- PET/CT imaging in the evaluation of multicentric reti- culohistiocytosis: A case report. Medicine (Baltimore). 2018;97(33):1-6.

XXV. Yeter KC, Arkfeld DG. Treatment of multicentric reticu- lohistiocytosis with adalimumab, minocycline, metho- trexate. Int J Rheum Dis 2013 16(1):105-106.

XXVI. Kalajian AH, Callen JP. Multicentric reticulohistiocyto- sis successfully treated with in iximab: an illustrative case and evaluation of cytokine expression supporting anti-tumor necrosis factor therapy. Arch Dermatol 2008 144(10):1360-1366.

XXVII. Kovach BT, Calamia KT, Walsh JS, Ginsburg WW. Treatment of multicentric reticulohistiocytosis with etanercept. Arch Dermatol 2004;140(8):919-921.

XXVIII. Mavragani CP, Batziou K, Aroni K, Pikazis D, Manoussa- kis MN. Alleviation of polyarticular syndrome in multi- centric reticulohistiocytosis with intravenous zoledro- nate. Ann Rheum Dis 2005 Oct;64(10):1521-2.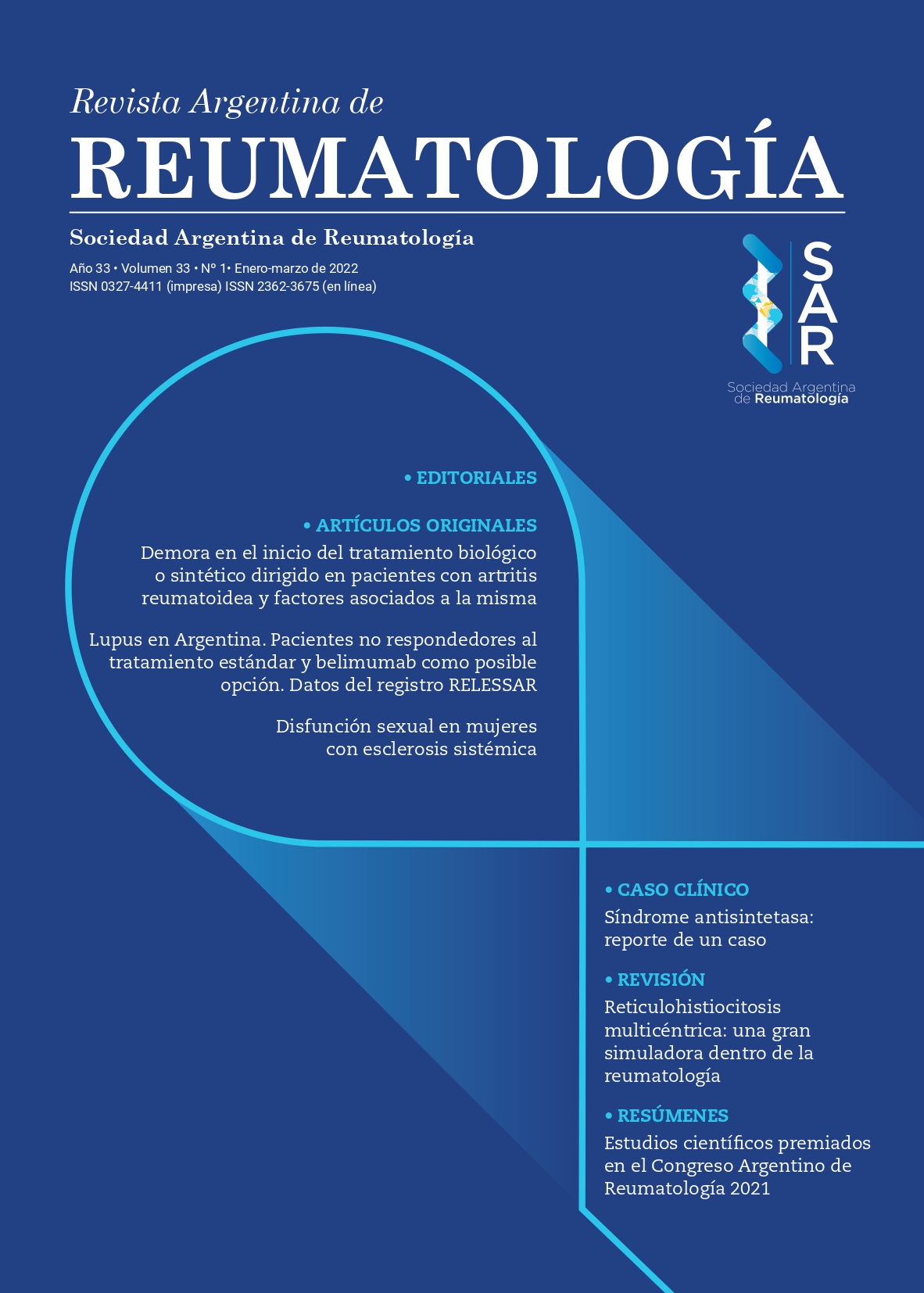 Cómo citar
1.
Caicedo OA, Medina MA, Caracciolo J Ángel, Papasidero SB. Reticulohistiocitosis multicéntrica: una gran simuladora dentro de la Reumatología. Rev. Argent. Reumatol. [Internet]. 10 de marzo de 2022 [citado 30 de noviembre de 2023];33(1):39 -42. Disponible en: https://ojs.reumatologia.org.ar/index.php/revistaSAR/article/view/651
Derechos de autor 2022 a nombre de los autores. Derechos de reproducción: Sociedad Argentina de Reumatología
Esta obra está bajo licencia internacional
Creative Commons Reconocimiento-NoComercial-SinObrasDerivadas 4.0
.