Hallazgos histológicos de glándulas salivales mayores y menores en pacientes con enfermedad relacionada a IgG4
María Eugenia Correa Lemos

Hospital J.M. Cullen, Santa Fe, Argentina

Romina Calvo

Hospital J.M. Cullen, Santa Fe, Argentina

Alberto Ortiz

Hospital J.M. Cullen, Santa Fe, Argentina

Sergio Paira

Hospital J.M. Cullen, Santa Fe, Argentina
Palabras clave:
biopsia de glándula salival menor, enfermedad relacionada a IgG4, glándulas salivares
Resumen
Introducción: la enfermedad relacionada con IgG4 (ER-IgG4) es una afección inmunomediada, asociada con lesiones fibroinflamatorias que pueden ocurrir en casi cualquier órgano. Ante su sospecha clínica es fundamental realizar el examen histopatológico para excluir malignidad y otras enfermedades. El objetivo principal de este estudio fue describir los hallazgos histológicos de la biopsia de glándulas salivales labiales (GSL) en pacientes con diagnóstico de ER-IgG4 y, posteriormente, comparar estos hallazgos con la histología e inmunohistoquímica de la glándula salival mayor (GSM). Materiales y métodos: estudio retrospectivo, observacional y descriptivo sobre una cohorte de 40 pacientes con diagnóstico de ER-IgG4. Se incluyeron 26 pacientes con diagnóstico de ER-IgG4 que presentaron biopsias de GSL. Resultados: el 73% de la muestra tuvo un in ltrado linfoplasmocitario y el 11%, brosis con patrón no estoriforme. En ningún caso se halló arteritis obliterativa ni ninguna forma de flebitis. Al realizar la comparación con los hallazgos de las biopsias de GSM, no hubo signi cancia estadística. El 65% de los pacientes manifestó compromiso extraglandular y fueron los sistemas pancreato hepato biliar y las adenopatías los más afectados. Conclusiones: la biopsia incisional de glándula submandibular sería más útil y apropiada que la biopsia de GSL para un diagnóstico de nitivo de ER-IgG4.
Citas
I. Stone JH, Zen Y, Deshpande V. IgG4-related disease. N Engl J Med 2012;366(6):539-551. doi:10.1056/NEJMra1104650.
II. Inoue D, Yoshida K, Yoneda N, et al. IgG4-related disease: dataset of 235 consecutive patients. Medicine (Baltimore) 2015;94(15):e680. doi:10.1097/MD.0000000000000680.
III. Chisholm DM, Mason DK. Labial salivary gland biopsy in Sjogren's disease. J Clin Pathol 1968;21:656-660. doi: 10.1136/jcp.21.5.656.
IV. Baer AN, Gourin CG, Westra WH, et al. Rare diagnosis of IgG4-related systemic disease by lip biopsy in an international Sjögren syndrome registry. Oral Surg Oral Med Oral Pathol Oral Radiol 2013;115(3): e34-e39. doi: 10.1016/j.oooo.2012.07.485.
V. Doe K, Nozawa K, Okada T, et al. Usefulness of minor salivary gland biopsy in the diagnosis of IgG4-related disease: a case report. Int J Clin Exp Pathol 2014;7(5):26732677.
VI. Deshpande V, Zen Y, Chan JK, et al. Consensus statement on the pathology of IgG4-related disease. Mod Pathol 2012;25(9):1181-1192. doi: 10.1038/modpathol.2012.72.
VII. Wallace ZS, Zhang Y, Perugino CA, et al. Clinical phenotypes of IgG4-related disease: an analysis of two international cross-sectional cohorts. Ann Rheum Dis 2019;78(3):406-412. doi: 10.1136/annrheumdis-2018-214603.
VIII. Umehara H, Okazaki K, Masaki Y, et al. Comprehensive diagnostic criteria for IgG4-related disease (IgG4-RD), 2011. Mod Rheumatol 2012;22(1):21-30. doi: 10.1007/ s10165-011-0571-z.
IX. Strehl JD, Hartmann A, Agaimy A. Numerous IgG4positive plasma cells are ubiquitous in diverse localised non-speci c chronic in ammatory conditions and need to be distinguished from IgG4-related systemic disorders. J Clin Pathol 2011;64(3):237-243. doi: 10.1136/ jcp.2010.085613.
X. Kitagawa S, Zen Y, Harada K, et al. Abundant IgG4positive plasma cell in ltration characterizes chronic sclerosing sialadenitis (Küttner's tumor). Am J Surg Pathol 2005;29(6):783-791. doi: 10.1097/01. pas.0000164031.59940.fc.
XI. Geyer JT, Ferry JA, Harris NL, et al. Chronic sclerosing sialadenitis (Küttner tumor) is an IgG4-associated disease. Am J Surg Pathol 2010;34(2):202-210. doi: 10.1097/ PAS.0b013e3181c811ad.
XII. Moriyama M, Furukawa S, Kawano S, et al. The diagnostic utility of biopsies from the submandibular and labial salivary glands in IgG4-related dacryoadenitis and sialoadenitis, so-called Mikulicz's disease. Int J Oral Maxillofac Surg 2014;43(10):1276-1281. doi: 10.1016/j. ijom.2014.06.014.
XIII. Moriyama M, Ohta M, Furukawa S, et al. The diagnostic utility of labial salivary gland biopsy in IgG4-related disease. Mod Rheumatol 2016;26(5):725-729. doi: 10.3109/14397595.2016.1148225.
XIV. Takano K, Keira Y, Seki N, et al. Evaluation of submandibular versus labial salivary gland fibrosis in IgG4-related disease. Mod Rheumatol 2014;24(6):1023-1025. doi: 10.3109/14397595.2013.853336.
XV. Takano K, Nomura K, Abe A, et al. Clinicopathological analysis of salivary gland tissue from patients with IgG4-related disease. Acta Otolaryngol 2016;136(7):717721. doi: 10.3109/00016489.2016.1154605.
XVI. Masaki Y, Kurose N, Yamamoto M, et al. Cutoff Values of Serum IgG4 and Histopathological IgG4+ Plasma Cells for Diagnosis of Patients with IgG4-Related Disease. Int J Rheumatol 2012;2012:580814. doi: 10.1155/2012/580814.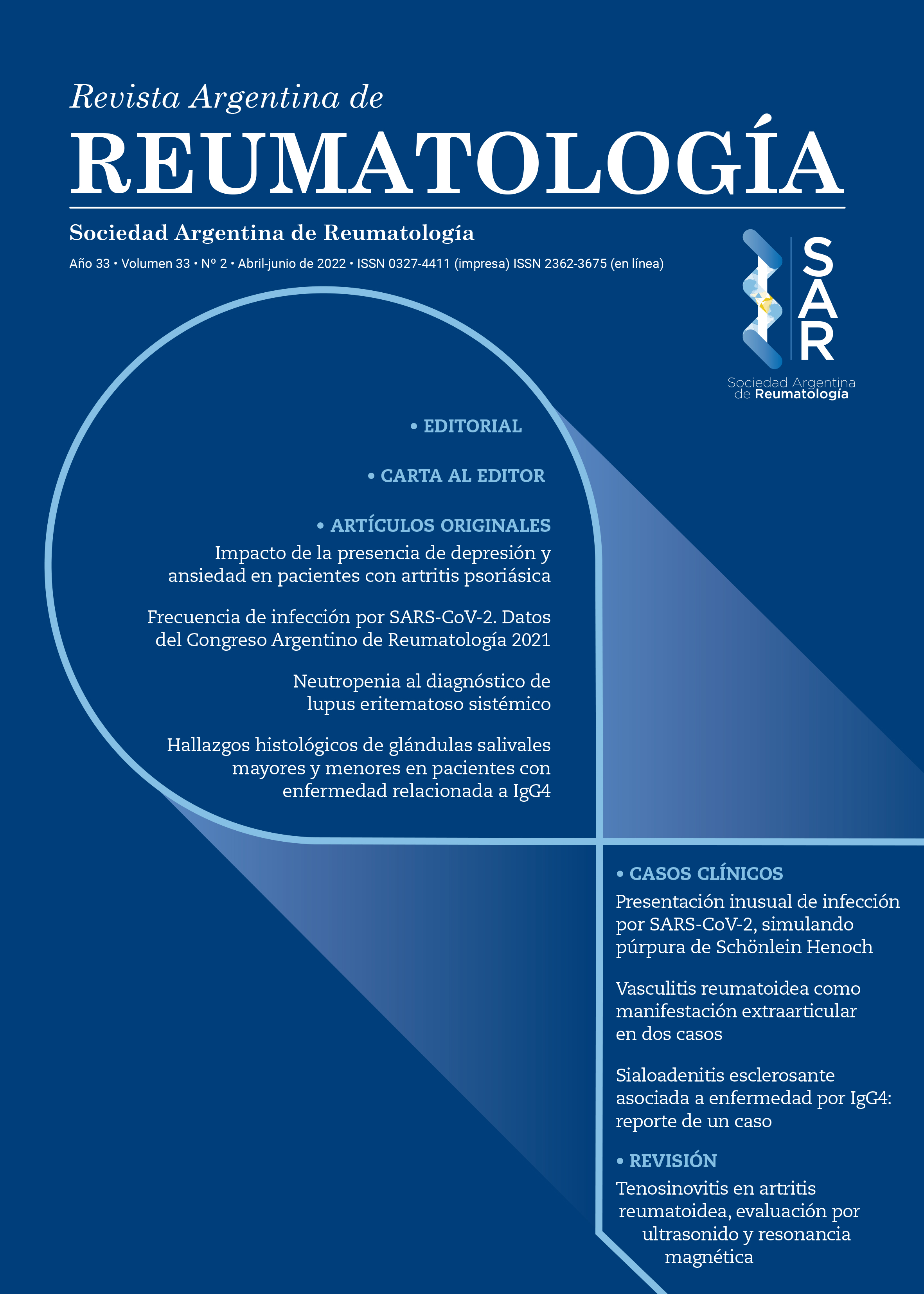 Cómo citar
1.
Correa Lemos ME, Calvo R, Ortiz A, Paira S. Hallazgos histológicos de glándulas salivales mayores y menores en pacientes con enfermedad relacionada a IgG4. Rev. Argent. Reumatol. [Internet]. 1 de junio de 2022 [citado 30 de noviembre de 2023];33(2):83 -89. Disponible en: https://ojs.reumatologia.org.ar/index.php/revistaSAR/article/view/611
Sección
Artículo Original
Derechos de autor 2022 A nombre de los autores. Derechos de reproducción: Sociedad Argentina de Reumatología
Esta obra está bajo licencia internacional
Creative Commons Reconocimiento-NoComercial-SinObrasDerivadas 4.0
.