Tenosinovitis subclínica detectada por ecografía en pacientes con artritis reumatoidea en remisión clínica sostenida
Florencia Beatriz Mollerach

Hospital Italiano de Buenos Aires, Ciudad Autónoma de Buenos Aires, Argentina

Josefina Marin

Hospital Italiano de Buenos Aires, Ciudad Autónoma de Buenos Aires, Argentina

Johana Zacariaz

Hospital Italiano de Buenos Aires, Ciudad Autónoma de Buenos Aires, Argentina

Marina Scolnik

Hospital Italiano de Buenos Aires, Ciudad Autónoma de Buenos Aires, Argentina

Javier Rosa

Hospital Italiano de Buenos Aires, Ciudad Autónoma de Buenos Aires, Argentina

Santiago Ruta

Hospital Italiano de Buenos Aires, Ciudad Autónoma de Buenos Aires, Argentina

Enrique Roberto Soriano

Hospital Italiano de Buenos Aires, Ciudad Autónoma de Buenos Aires, Argentina
Palabras clave:
artritis reumatoidea, remisión, tenosinovitis, ecografía, doppler
Resumen
El objetivo fue evaluar la prevalencia de tenosinovitis detectada por ecografía-doppler en pacientes con Artritis Reumatoidea (AR) en remisión clínica sostenida, determinar su asociación con las características de la enfermedad y determinar si la presencia de tenosinovitis ecográfica podría agregar información a la sinovitis para definir remisión ecográfica.
Citas
I. Smolen JS, Breedveld FC, Burmester GR, Bykerk V, Dougados M, Emery P, et al. Treating rheumatoid arthritis to target : 2014 update of the recommendations of an international task force. 2016;3–15.
II. Felson D. Defining remission in rheumatoid arthritis. Ann Rheum Dis. 2012 Apr;71 Suppl 2(0 2):i86-8.
III. Naredo E, Iagnocco A. One year in review 2017: ultrasound in crystal arthritis. Clin Exp Rheumatol. 35(3):362–7.
IV. Bruyn GA, Naredo E, Iagnocco A, Balint P V., Backhaus M, Gandjbakhch F, et al. The OMERACT Ultrasound Working Group 10 Years On: Update at OMERACT 12. J Rheumatol. 2015 Nov 1;42(11):2172–6.
V. Brown AK, Quinn MA, Karim Z, Conaghan PG, Peterfy CG, Hensor E, et al. Presence of significant synovitis in rheumatoid arthritis patients with disease-modifying antirheumatic drug–induced clinical remission: Evidence from an imaging study may explain structural progression. Arthritis Rheum. 2006 Dec;54(12):3761–73.
VI. Naredo E. Assessment of inflammatory activity in rheumatoid arthritis: a comparative study of clinical evaluation with grey scale and power Doppler ultrasonography. Ann Rheum Dis. 2004 Jul 22;64(3):375–81.
VII. Kawashiri S -y., Suzuki T, Nakashima Y, Horai Y, Okada A, Iwamoto N, et al. Ultrasonographic examination of rheumatoid arthritis patients who are free of physical synovitis: power Doppler subclinical synovitis is associated with bone erosion. Rheumatology. 2014 Mar 1;53(3):562–9.
VIII. Brown AK, Conaghan PG, Karim Z, Quinn MA, Ikeda K, Peterfy CG, et al. An explanation for the apparent dissociation between clinical remission and continued structural deterioration in rheumatoid arthritis. Arthritis Rheum. 2008 Oct;58(10):2958–67.
IX. Foltz V, Gandjbakhch F, Etchepare F, Rosenberg C, Tanguy ML, Rozenberg S, et al. Power Doppler ultrasound, but not low-field magnetic resonance imaging, predicts relapse and radiographic disease progression in rheumatoid arthritis patients with low levels of disease activity. Arthritis Rheum. 2012 Jan;64(1):67–76.
X. Dougados M, Devauchelle-Pensec V, Ferlet J françois, Jousse-Joulin sandrine, D'Agostino M-A, Backhaus M, et al. The ability of synovitis to predict structural damage in rheumatoid arthritis: a comparative study between clinical examination and ultrasound. Ann Rheum Dis. 2013 May;72(5):665–71.
XI. P eluso G, Michelutti A, Bosello S, Gremese E, Tolusso B, Ferraccioli G. Clinical and ultrasonographic remission determines different chances of relapse in early and long standing rheumatoid arthritis. Ann Rheum Dis. 2011 Jan 1;70(1):172–5.
XII. Nguyen H, Ruyssen-Witrand A, Gandjbakhch F, Constantin A, Foltz V, Cantagrel A. Prevalence of ultrasound-detected residual synovitis and risk of relapse and structural progression in rheumatoid arthritis patients in clinical remission: a systematic review and meta-analysis. Rheumatology. 2014 Nov;53(11):2110–8.
XIII. Baillet A, Gaujoux-Viala C, Mouterde G, Pham T, Tebib J, Saraux A, et al. Comparison of the efficacy of sonography, magnetic resonance imaging and conventional radiography for the detection of bone erosions in rheumatoid arthritis patients: a systematic review and meta-analysis. Rheumatology. 2011 Jun 1;50(6):1137–47.
XIV. Lillegraven S, Boyesen P, Hammer HB, Ostergaard M, Uhlig T, Sesseng S, et al. Tenosynovitis of the extensor carpi ulnaris tendon predicts erosive progression in early rheumatoid arthritis. Ann Rheum Dis. 2011 Nov 1;70(11):2049–50.
XV. McQueen F, Beckley V, Crabbe J, Robinson E, Yeoman S, Stewart N. Magnetic resonance imaging evidence of tendinopathy in early rheumatoid arthritis predicts tendon rupture at six years. Arthritis Rheum. 2005 Mar;52(3):744–51.
XVI. Jacobs JH, Hii ss E V, Beswick IP. RHEUMATOID ARTHRITIS PRESENTING AS TENOSYNOVITIS.
XVII. Colebatch AN, Edwards CJ, Østergaard M, van der Heijde D, Balint P V, D'Agostino M-A, et al. EULAR recommendations for the use of imaging of the joints in the clinical management of rheumatoid arthritis. Ann Rheum Dis. 2013 Jun;72(6):804–14.
XVIII. McAlindon T, Kissin E, Nazarian L, Ranganath V, Prakash S, Taylor M, et al. American College of Rheumatology report on reasonable use of musculoskeletal ultrasonography in rheumatology clinical practice. Arthritis Care Res (Hoboken). 2012 Nov;64(11):1625–40.
XIX. Bellis E, Scirè CA, Carrara G, Adinolfi A, Batticciotto A, Bortoluzzi A, et al. Ultrasound-detected tenosynovitis independently associates with patient-reported flare in patients with rheumatoid arthritis in clinical remission: results from the observational study STARTER of the Italian Society for Rheumatology. Rheumatology. 2016 Oct;55(10):1826–36.
XX. Filippucci E, Gabba A, Di Geso L, Girolimetti R, Salaffi F, Grassi W. Hand Tendon Involvement in Rheumatoid Arthritis: An Ultrasound Study. Semin Arthritis Rheum. 2012 Jun;41(6):752– 60.
XXI. Berthelot J-M, De Bandt M, Morel J, Benatig F, Constantin A, Gaudin P, et al. A tool to identify recent or present rheumatoid arthritis flare from both patient and physician perspectives: The "FLARE" instrument. Ann Rheum Dis. 2012 Jul;71(7):1110– 6.
XXII. de Thurah A, Maribo T, Stengaard-Pedersen K. Patient self-assessment of flare in rheumatoid arthritis: criterion and concurrent validity of the Flare instrument. Clin Rheumatol. 2016 Feb 18;35(2):467–71.
XXIII. Aletaha D, Neogi T, Silman AJ, Funovits J, Felson DT, Bingham CO, et al. 2010 Rheumatoid arthritis classification criteria: an American College of Rheumatology/European League Against Rheumatism collaborative initiative. Ann Rheum Dis. 2010 Sep 1;69(9):1580–8.
XXIV. Prevoo MLL, Van'T Hof MA, Kuper HH, Van Leeuwen MA, Van De Putte LBA, Van Riel PLCM. Modified disease activity scores that include twenty-eight-joint counts development and validation in a prospective longitudinal study of patients with rheumatoid arthritis. Arthritis Rheum. 1995 Jan;38(1):44–8.
XXV. A letaha D, Nell VPK, Stamm T, Uffmann M, Pflugbeil S, Machold K, et al. Acute phase reactants add little to composite disease activity indices for rheumatoid arthritis: validation of a clinical activity score. Arthritis Res Ther. 2005;7(4):R796-806.
XXVI. Smolen JS, Breedveld FC, Schiff MH, Kalden JR, Emery P, Eberl G, et al. A simplified disease activity index for rheumatoid arthritis for use in clinical practice. Rheumatology. 2003 Feb;42(2):244–57.
XXVII. Citera G, Arriola MS, Maldonado-Cocco JA, Rosemffet MG, S??nchez MM, Go??i MA, et al. Validation and Crosscultural Adaptation of an Argentine Spanish Version of the Health Assessment Questionnaire Disability Index. JCR J Clin Rheumatol. 2004 Jun;10(3):110–5.
XXVIII. B ackhaus M. Guidelines for musculoskeletal ultrasound in rheumatology. Ann Rheum Dis. 2001 Jul 1;60(7):641–9.
XXIX. Naredo E, D'Agostino MA, Wakefield RJ, Möller I, Balint P V, Filippucci E, et al. Reliability of a consensus-based ultrasound score for tenosynovitis in rheumatoid arthritis. Ann Rheum Dis. 2013 Aug;72(8):1328–34.
XXX. Schmidt WA. Standard reference values for musculoskeletal ultrasonography. Ann Rheum Dis. 2004 Apr 13;63(8):988–94.
XXXI. Padovano I, Costantino F, Breban M, D'Agostino MA. Prevalence of ultrasound synovial inflammatory findings in healthy subjects. Ann Rheum Dis. 2016 Oct;75(10):1819–23.
XXXII. Ammitzbøll-Danielsen M, Østergaard M, Naredo E, Terslev L. Validity and sensitivity to change of the semi-quantitative OMERACT ultrasound scoring system for tenosynovitis in patients with rheumatoid arthritis. Rheumatology. 2016 Dec;55(12):2156–66.
XXXIII. V entura-Ríos L, Sánchez Bringas G, Hernández-Díaz C, Cruz-Arenas E, Burgos-Vargas R. Subclinical synovitis and tenosynovitis by ultrasonography (US) 7 score in patients with rheumatoid arthritis treated with synthetic drugs, in clinical remission by DAS28. Reumatol Clin. 2017 Nov 29;
XXXIV. Hammer HB, Kvien TK, Terslev L. Tenosynovitis in rheumatoid arthritis patients on biologic treatment: involvement and sensitivity to change compared to joint inflammation. Clin Exp Rheumatol. 35(6):959–65.
XXXV. . C erqueira M, Teixeira F, Sousa Neves J, Peixoto D, Afonso MC, Costa JA. Relationship between clinical evaluation and ultrasound assessment of rheumatoid arthritis patients using a 12 joint score. Int J Rheum Dis. 2017 Jul;20(7):852–8.
XXXVI. G utierrez M, Pineda C, Salaffi F, Raffeiner B, Cazenave T, Martinez-Nava GA, et al. Is ankle involvement underestimated in rheumatoid arthritis? Results of a multicenter ultrasound study. Clin Rheumatol. 2016 Nov 19;35(11):2669–78.
XXXVII. Michelson J, Easley M, Wigley FM, Hellmann D. Posterior Tibial Tendon Dysfunction in Rheumatoid Arthritis. Foot Ankle Int. 1995 Mar 28;16(3):156–61.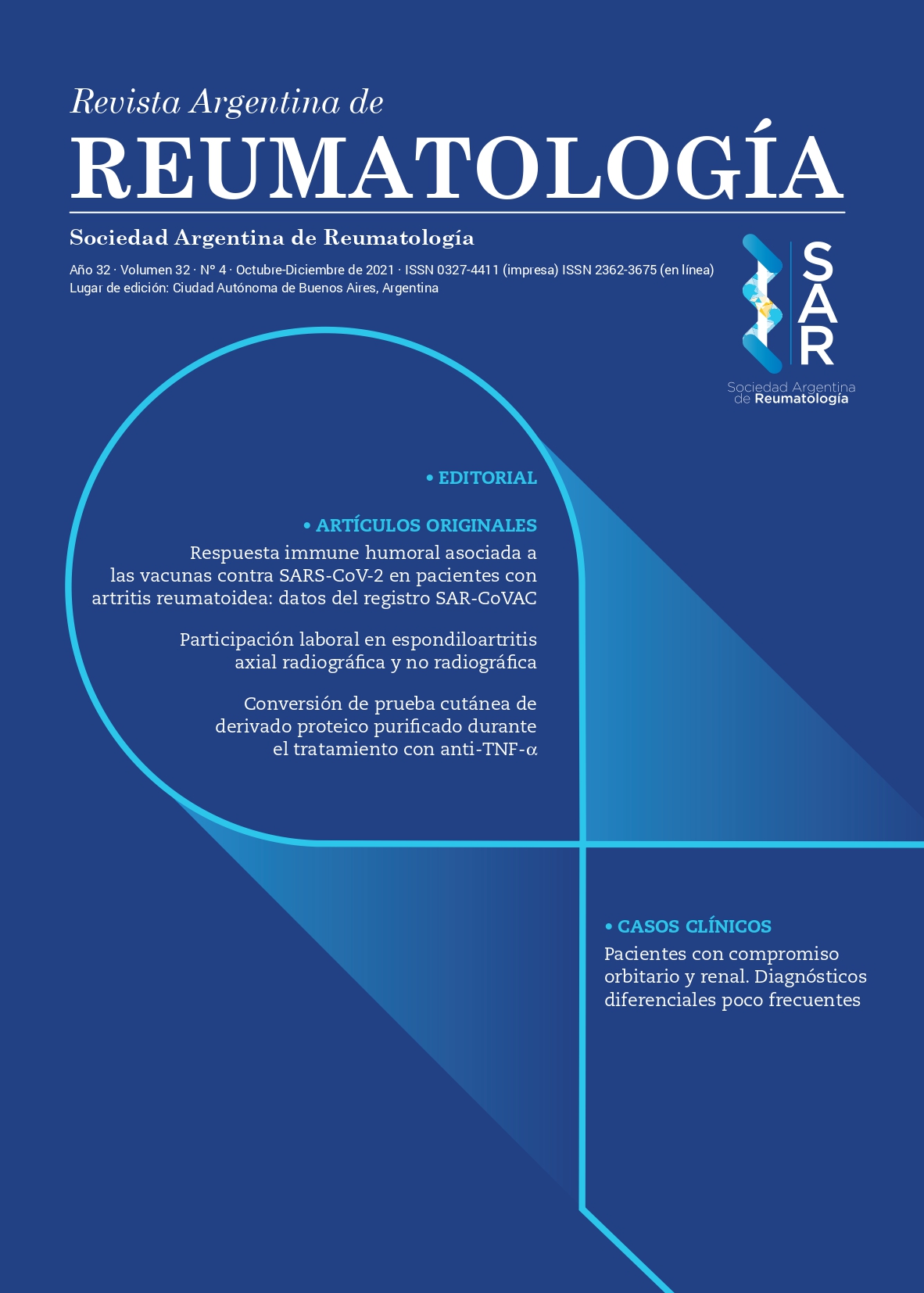 Cómo citar
1.
Mollerach FB, Marin J, Zacariaz J, Scolnik M, Rosa J, Ruta S, Soriano ER. Tenosinovitis subclínica detectada por ecografía en pacientes con artritis reumatoidea en remisión clínica sostenida. Rev. Argent. Reumatol. [Internet]. 1 de junio de 2018 [citado 6 de febrero de 2023];29(2):28 -33. Disponible en: https://ojs.reumatologia.org.ar/index.php/revistaSAR/article/view/528
Sección
Artículo Original
Derechos de autor 2018 Sociedad Argentina de Reumatología
Esta obra está bajo licencia internacional
Creative Commons Reconocimiento-NoComercial-SinObrasDerivadas 4.0
.