Estudio piloto de validación y adaptación de un cuestionario para evaluar el impacto de la espondiloartritis axial en la sexualidad de los pacientes
F.A. Sommerfleck

Instituto de Rehabilitación Psicofísica, Ciudad Autónoma de Buenos Aires, Argentina

M.C. Orozco

Instituto de Rehabilitación Psicofísica, Ciudad Autónoma de Buenos Aires, Argentina

N. Zamora

Instituto de Rehabilitación Psicofísica, Ciudad Autónoma de Buenos Aires, Argentina

M.B. Landi

Instituto de Rehabilitación Psicofísica, Ciudad Autónoma de Buenos Aires, Argentina

E.E. Schneeberger

Instituto de Rehabilitación Psicofísica, Ciudad Autónoma de Buenos Aires, Argentina

G. Citera

Instituto de Rehabilitación Psicofísica, Ciudad Autónoma de Buenos Aires, Argentina
Palabras clave:
espondiloartritis, sexualidad
Resumen
Introducción: El Qualisex es un cuestionario desarrollado y validado para evaluar la sexualidad en pacientes con artritis reumatoidea. Hasta el momento, según nuestro conocimiento, no se ha desarrollado un cuestionario que evalúe específicamente la sexualidad en pacientes que padecen Espondiloartritis axial (EsPax). Por este motivo, nuestro objetivo fue validar y adaptar el cuestionario Qualisex en pacientes con EsPax y evaluar el impacto de su enfermedad en la sexualidad.
Citas
I. Dagfinrud H, Kjeken I, Mowinckel P, Hagen KB, Kvien TK. Impact of functional impairment in ankylosing spondylitis: impairment, activity limitation, and participation restrictions. J Rheumatol 2005;32(3):516-23.
II. Singh JA, Strand V. Health care utilization in patients with spondyloarthropaties. Rheumatology (Oxford) 2009;48(3):272-6.
III. Maksymowych WP, Gooch KL, Wong RL, Kupper H, van der Heijde D. Impact of age, sex, physical function, health-related quality of life, and treatment with adalimumab on work status and work productivity of patients with ankylosing spondylitis. J Rheumatol 2010;37(2):385-92.
IV. van der Heijde D, Joshi A, Pangan AL, Chen N, Betts K, Mittal M, et al. ASAS40 and ASDAS clinical responses in the ABILITY-1 clinical trial translate to meaningful improvements in physical function, health-related quality of life and work productivity in patients with non-radiographic axial spondyloarthritis. Rheumatology (Oxford) 2016;55(1):80-8.
V. Marengo MF, Citera G, Schneeberger EE, Maldonado Cocco JA. Work status among patients with ankylosing spondylitis in Argentina. J Clin Rheumatol 2008;14(5):273-7.
VI. World Health Organization.Defining sexual health. Report of a technical consultation on sexual health 28-31. Ginebra: OMS; January 2002.
VII. Liu YF, Dong H, Chen Z, Wang Y, HaoTu S. Impact of ankylosing spondylitis on sexual function: A systematic review and meta-analysis. Exp Ther Med 2015;9(4):1501-7.
VIII. Elst P, Sybesma T, Van der Stadt RJ, Prins APA, Hissink Muller W, Den Butter A. Sexual problems in rheumatoid arthritis and Ankylosing spondylitis. Arthritis Rheum 1984;27(2):217-20.
IX. Kurisky PS, Mota LM. Sexual dysfunction in patients with psoriasis and psriatic arthritis. A systematic review. Rev Bras Reumatol 2012 ;52(6):943-8.
X. Mercan S, Altunay IK, Demir B, Akpinar A, Kayaoglu S. Sexual dysfunctions in patients with neurodermatitis and psoriasis. J Sex Marital Ther 2008;34(2):160-8.
XI. Molina-Leyva A, Jiménez-Moleón JJ, Naranjo-Sintes R, Ruíz-Carrascosa JC. Sexual dysfunction in psoriasis: a systematic review. J Eur Acad Dermatol Venereol 2015 ;29(4):649-55.
XII. Blake D, Maisiak R, Graciela S, et al. Sexual quality of life of patients with arthritis compared to arthritis free controls. J Rheumatol 1987;14(3):570-6.
XIII. Kobelt G, Texier-Richard B, Mimoun S, Woronoff AS, Bertholon DR, Perdriger A, et al. Rheumatoid arthritis and sexuality: a patient survey in France. BMC Musculoskelet Disord 2012;13(10):170.
XIV. Hill J, Bird H, Thorpe R. Effects of rheumatoid arthritis on sexual activity and relationships. Rheumatology (Oxford) 2003;42(2):280-6.
XV. Evers A, Kraaimaat W, Geenen R, Dimsdale JE, Ziegler MG, Grant I. Stress-vulnerability factors as long-termpredictors of disease activity in early rheumatoid arthritis. J Psychosom Res 2003;54(4):293-302.
XVI. Citera G, Maldonado Cocco J, Moroldo M, Burgos-Vargas R, Anaya J, López I, et al Validación de la versión en español de los cuestionarios de capacidad funcional (BASFI) y actividad de la enfermedad (BASDAI) en pacientes con Espondilitis Anquilosante en cuatro países latinoamericanos. Rev Argent Reumatol 1999;10(Supl 1):25 [abstract]
XVII. Garrett S, Jenkinson T, Kennedy LG, Whitelock H, Gaisford P, Calin A. A new approach to defining disease status in ankylosing spondylitis: The Bath Ankylosing Spondylitis Disease Activity Index. J Rheumatol 1994;21(12):2286-91.
XVIII. Calin A, Garrett SL, Whitelock H, Kennedy LG, O'Hea J, Mallorie P, et al. A new approach to functional ability in ankylosing spondylitis: the Bath Ankylosing Spondylitis Functional Index. J Rheumatol 1994(12);21:2281-85.
XIX. Doward L, Spoorerg A, Cook S, Whalley D, Helliwell PS, Kay LJ, et al. Development of the ASQoL: a quality of life instrument specific to ankylosing spondylitis. Ann Rheum Dis 2003; 62(1):20-6.
XX. Gossec L, Solano C, Paternotte S, Beauvais C, Gaudin P, von Krause G,et al. Elaboration and validation of a questionnaire (Qualisex) to assess the impact of rheumatoid arthritis on sexuality with patient involvement. Clin Exp Rheumatol 2012;30(4):505-13.
XXI. Sieper J, van der Heijde D, Landewé R. New criteria for inflammatory back pain in patients with chronic back pain: a real patient exercise by experts from the Assessment of Spondyloarthritis international Society (ASAS). Ann Rheum Dis 2009;68(6):784-8.
XXII. van der Linden S, Valkenburg HA, Cats A. Evaluation of diagnostic criteria for ankylosing spondylitis: a proposal for the modification of the New York criteria. Arthritis Rheum 1984;27(4):361-8.
XXIII. Taylor W, Gladman D, Helliwell P, Marchesoni A, Mease P, Mielants H and CASPAR Study Group. Classification Criteria for Psoriatic Arthritis. Development of New Criteria from a Large International Study. Arthritis Rheum 2006;54(8):2665-73.
XXIV. van der Heijde D, van der Linden S, Bellamy N, Calin A, Dougados M, Khan MA. Which domains should be included in a core set for endpoints in ankylosing spondylitis? Introduction to the ankylosing spondylitis module of OMERACT IV. J Rheumatol. 1999;26:945-7.
XXV. Mander M, Simpson J, Mc Lellan A, Walker D, Goodcare J, Dick WC.Studies with an enthesis index as a method of clinical assessment in ankylosing spondylitis. Ann Rheum Dis. 1987;46:197-202.
XXVI. Dorenbosch L, Spoorenberg A, Tubergen A, Landewe R, Van der Tempel H, Mielants H, et al. Assessment of enthesitis in akylosing spondylitis. An Rheum Dis. 2003;62:127-32.
XXVII. Jenkinson TR, Mallorie PA, Whitelock HC, Kennedy LG, Garrett SL, Calin A. Defining spinal mobility in ankylosing spondylitis(AS). The Bath AS Metrology Index. J Rheumatol 1994;21(9):1694-8.
XXVIII. van Der Heijde D, Landewé R, Feldtkeller E. Proposal of a linear definition of the Bath Ankylosing Spondylitis Metrology Index (BASMI) and comparison with the 2-step and 10-step definitions. Ann Rheum Dis 2008;67(4):489-93.
XXIX. S ommerfleck FA, Schneeberger EE, Buschiazzo EE, Maldonado Cocco JA, Citera G. A simplified version of Ankylosing Spondylitis Disease Activity Score (ASDAS) in patients with ankylosing spondylitis. Clin Rheumatol 2012;31(11):1599-603.
XXX. Healey EL, Haywood KL, Jordan KP, Garratt AM, Ryan S, Packham. Ankylosing spondylitis and its impact on sexual relationships. Rheumatology 2009;48(11):1378-81.
XXXI. Chen CH, Chen HA, Liao HT, Liu CH, Tsai CY, Chou CT. The clinical usefulness of ESR, CRP, and disease duration in ankylosing spondylitis: the product of these acute-phase reactants and disease duration is associated with patient's poor physical mobility. Rheumatol Int. 2015;35(7):1263-7.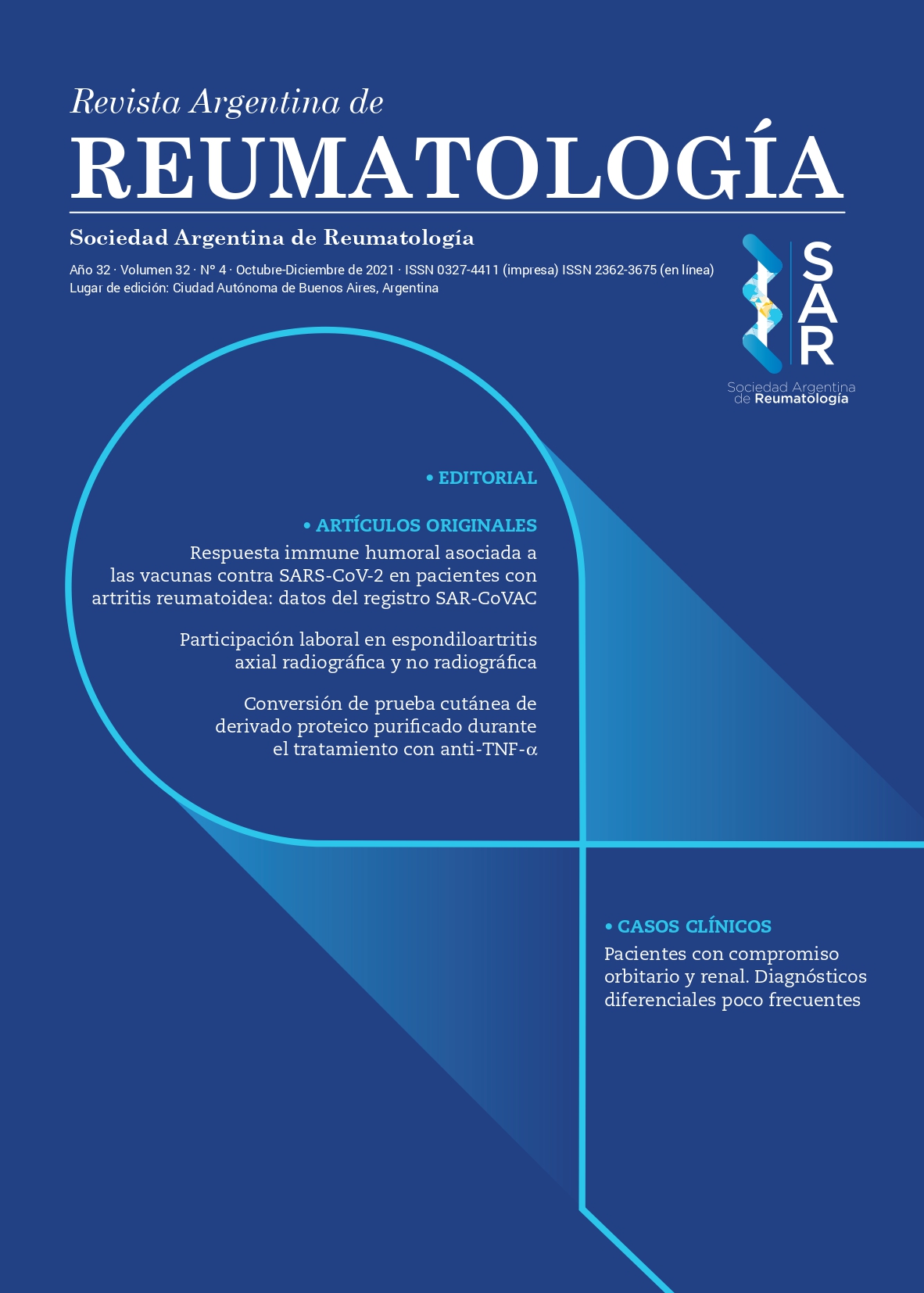 Cómo citar
1.
Sommerfleck F, Orozco M, Zamora N, Landi M, Schneeberger E, Citera G. Estudio piloto de validación y adaptación de un cuestionario para evaluar el impacto de la espondiloartritis axial en la sexualidad de los pacientes. Rev. Argent. Reumatol. [Internet]. 1 de junio de 2018 [citado 6 de febrero de 2023];29(2):18 -24. Disponible en: https://ojs.reumatologia.org.ar/index.php/revistaSAR/article/view/527
Sección
Artículo Original
Derechos de autor 2018 Sociedad Argentina de Reumatología
Esta obra está bajo licencia internacional
Creative Commons Reconocimiento-NoComercial-SinObrasDerivadas 4.0
.