La ultrasonografía (US), una amiga para no olvidar
Marcos Rosemffet

Instituto de Rehabilitación Psicofísica, Ciudad Autónoma de Buenos Aires, Argentina
Palabras clave:
ultrasonografía
Resumen
En los últimos años, numerosas publicaciones ponderaron el uso de la US en el manejo diario de los pacientes con Artritis Reumatoidea (AR). Sin embargo, existe una tendencia actual de poner en dudas las diferentes posibilidades que brinda esta técnica, basados en algunas publicaciones, fortaleciendo el manejo clínico como principal sostén de nuestra práctica diaria.
Citas
I. Lage-Hansen PR, Lindegaard H, Chrysidis S & Terslev L. The role of ultrasound in diagnosing rheumatoid arthritis, what do we know? An updated review. Rheumatol Int. 2017; 37:179-187.
II. Naredo E & Iagnocco A. One year in review: Ultrasound in arthritis. Clin Exp Rheumatol. 2016;34:1-10.
III. Ji L, Deng X, Geng Y, Song Z & Zhang Z. The additional benefit of ultrasonography to 2010 ACR/EULAR classification criteria when diagnosing rheumatoid arthritis in the absence of anti-cyclic citrullinated peptide antibodies. Clin Rheumatol. 2017;36:261-267.
IV. Caporali R & Smolen JS. Back to the future: Forget ultrasound and focus on clinical assessment in rheumatoid arthritis management. Ann Rheum Dis. 2018;77:18-20.
V. Porta F et al. The role of doppler ultrasound in rheumatic diseases. Rheumatol. (United Kingdom) 2012;51:976-982.
VI. Humby F et al. Use of ultrasound-guided small joint biopsy to evaluate the histopathologic response to rheumatoid arthritis therapy: Recommendations for application to clinical trials. Arthritis Rheumatol. 2015;67:2601-2610.
VII. Colebatch AN et al. EULAR recommendations for the use of imaging of the joints in the clinical management of rheumatoid arthritis. Ann Rheum Dis. 2013;72:804-814.
VIII. Terslev L et al. Scoring ultrasound synovitis in rheumatoid arthritis: A EULAR-OMERACT ultrasound taskforce-Part 2: Reliability and application to multiple joints of a standardised consensus-based scoring system. RMD Open 2017;3:1-10.
IX. Aydin SZ et al. Which joints and why do rheumatologists scan in rheumatoid arthritis by ultrasonography? A real life experience. Clin Exp Rheumatol. 2017;35:0508-0511.
X. N aredo E et al. Ultrasonographic assess- ment of inflammatory activity in rheumatoid arthritis: Comparison of extended versus reduced joint evaluation. Clin Exp Rheumatol. 2005;23:881-884.
XI. Padovano I, Costantino F, Breban M & D'Agostino MA. Prevalence of ultrasound synovial inflammatory findings in healthy subjects. Ann Rheum Dis. 2016; 75:1819-1823.
XII. B rown AK et al. An explanation for the apparent dissociation between clinical remission and continued structural deterioration in rheumatoid arthritis. Arthritis Rheum. 2008;58:2958-2967.
XIII. Dale J et al. Targeting ultrasound remission in early rheumatoid arthritis: The results of the TaSER study, a randomised clinical trial. Ann Rheum Dis. 2016;75:1043-1050.
XIV. Haavardsholm EA et al. Ultrasound in management of rheumatoid arthritis: ARCTIC randomised controlled strategy trial. BMJ 2016;354: i4205.
XV. D'Agostino MA et al. Novel algorithms for the pragmatic use of ultrasound in the management of patients with rheumatoid arthritis: From diagnosis to remission. Ann Rheum Dis. 2016; 75:1902-1908.
XVI. D 'Agostino MA, Boers M, Wakefield RJ, Emery P & Conaghan PG. Is it time to revisit the role of ultrasound in rheumatoid arthritis management? Ann Rheum Dis. 2017;76:7-8.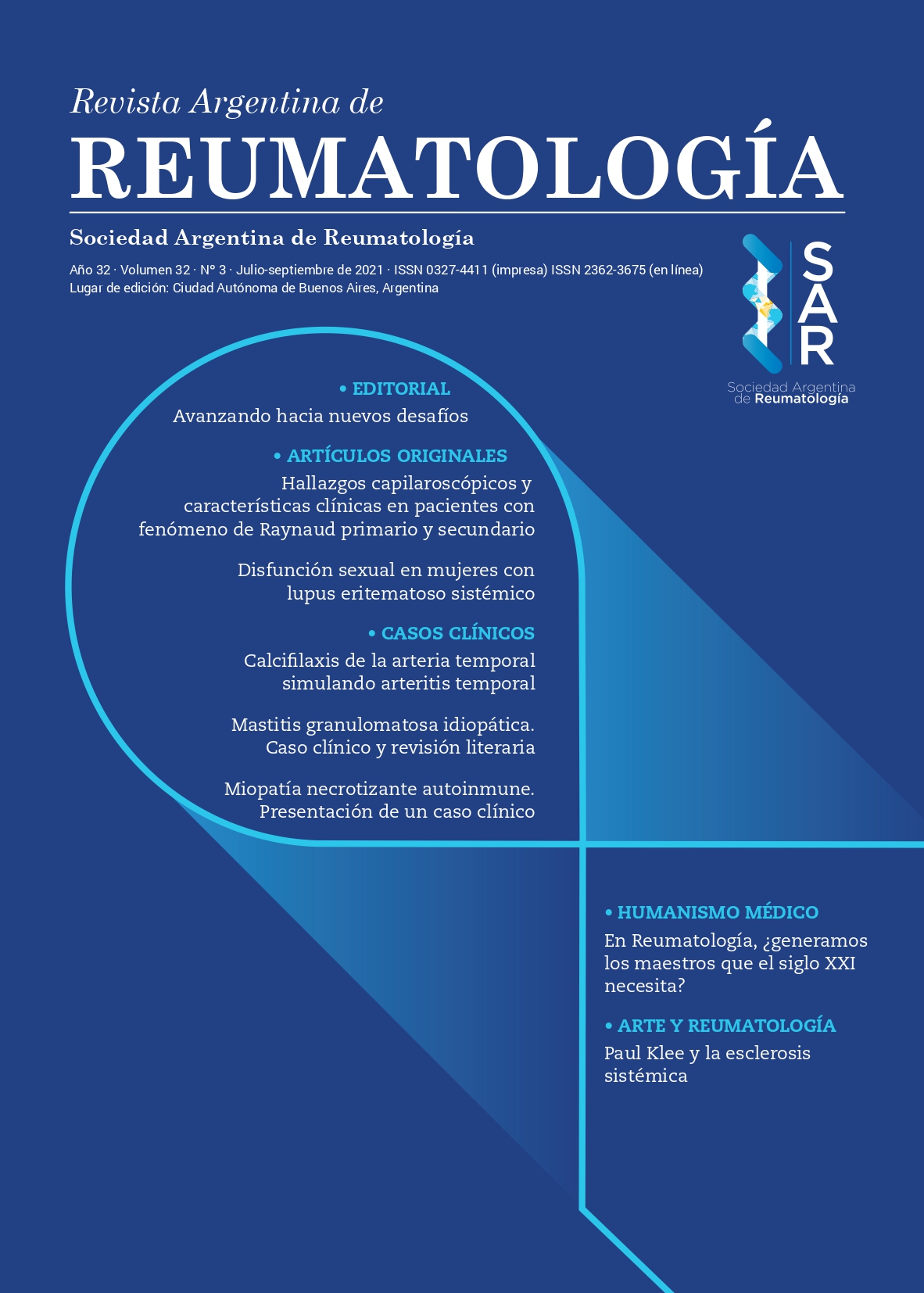 Cómo citar
1.
Rosemffet M. La ultrasonografía (US), una amiga para no olvidar. Rev. Argent. Reumatol. [Internet]. 1 de septiembre de 2018 [citado 6 de febrero de 2023];29(3):48 -49. Disponible en: https://ojs.reumatologia.org.ar/index.php/revistaSAR/article/view/522
Derechos de autor 2018 Sociedad Argentina de Reumatología
Esta obra está bajo licencia internacional
Creative Commons Reconocimiento-NoComercial-SinObrasDerivadas 4.0
.