Prevalencia y características de uveítis como manifestación extraarticular en Espondiloartritis Axial
D. Capelusnik

Instituto de Rehabilitación Psicofísica, Ciudad Autónoma de Buenos Aires, Argentina

M. Cavalieri

Instituto de Rehabilitación Psicofísica, Ciudad Autónoma de Buenos Aires, Argentina

R. Rolón Campuzano

Instituto de Rehabilitación Psicofísica, Ciudad Autónoma de Buenos Aires, Argentina

E.E. Schneeberger

Instituto de Rehabilitación Psicofísica, Ciudad Autónoma de Buenos Aires, Argentina

M.C. Orozco

Instituto de Rehabilitación Psicofísica, Ciudad Autónoma de Buenos Aires, Argentina

F.A. Sommerfleck

Instituto de Rehabilitación Psicofísica, Ciudad Autónoma de Buenos Aires, Argentina

N. Zamora

Instituto de Rehabilitación Psicofísica, Ciudad Autónoma de Buenos Aires, Argentina

G. Citera

Instituto de Rehabilitación Psicofísica, Ciudad Autónoma de Buenos Aires, Argentina
Palabras clave:
uveítis, espondiloartritis
Resumen
Introducción: la Uveítis Anterior Aguda (UAA) es la manifestación extraarticular más frecuente en la Espondiloartritis axial (EsPax), con una prevalencia global de 32,7%. El objetivo de este estudio fue determinar la prevalencia de UAA en una cohorte Argentina de pacientes con EsPax, describir sus características clínicas, frecuencia de episodios, respuesta al tratamiento y pronóstico a largo plazo, así como su asociación con características generales de la enfermedad.
Citas
I. Wilson G, Folzenlogen D. Spondyloarthropathies: new directions in etiopathogenesis, diagnosis and treatment. Mo Med 2012;109(1):69-74.
II. Khan MA. Update on Spondyloarthropathies. Ann Intern Med 2002;136(12):896-907.
III. Maldonado Coco J, Citera G. Reumatología. 1era edición. Capítulo 31. Pag 435-9.
IV. Rathinam S, Namperumalsamy P. Global variation and pattern changes in epidemiology of uveitis. Indian J Ophthalmol 2007;55(3):173-83.
V. Martin T, Rosenbaum J. An update on the genetics of HLA B27-associated acute anterior uveitis. Ocul Immunol Inflamm 2011;19(2):108-14.
VI. Acharya N, Tham V, Esterberg E, Borkar D, Parker J, Vinoya A, et al. Incidence and prevalence of uveitis: results from the Pacific Ocular Inflammation Study. JAMA Ophthalmol 2013;131(11):1405-12.
VII. Rathinam S, Namperumalsamy P. Global variation and pattern changes in epidemiology of uveitis. Indian J Ophthalmol 2007;55(3):173-83.
VIII. Cantini F, Nannini C, Cassará E, Kaloudi O, Niccoli L. Uveitis in Spondyloarthritis: An Overview. J Rheumatol 2015;93(1):27-9.
IX. Paiva E, Macaluso D, Edwards A, Rosenbaum J. Characterization of uveitis in patients with psoriatic arthritis. Ann Rheum Dis 2000;59(1):67-70.
X. Peluso R, Di Minno M, Lervolino S, Manguso F, Tramontano G, Ambrosino P, et al. Enteropathic spondyloarthritis: from diagnosis to treatment. Clin Dev Immunol 2013;(2013):631408.
XI. Bellomio V, Berman A, Sueldo R, Molina M, Spindler A, Lucero E, Berman H, et al. Registro Iberoamericano de Espondiloartritis (RESPONDIA): Argentina. Reumatol Clin 2008;4(4):23-9.
XII. van der Linden S, Valkenburg HA, Cats A. Evaluation of diagnostic criteria for ankylosing spondylitis. A proposal for modification of the New York criteria. Arthritis Rheum 1984;27(4):361-8.
XIII. Rudwaleit M, van der Heijde D, Landewé R, Listing J, Akkoc N, Brandt J, et al. The development of Assessment of SpondyloArthritis international Society classification criteria for axial spondyloarthritis (part II): validation and final selection. Ann Rheum Dis 2009;68(6):777-83.
XIV. Jenkinson TR, Mallorie P, Whitelock HC, Kennedy LG, Calin A (1994). Defining spinal mobility in ankylosing spondylitis (AS): the Bath AS Metrological Index (BASMI). J Rheumatol1994;21(9):1694-98.
XV. Heuft-Dorenbosch L, Spoorenberg A, van Tubergen A. Assessment of enthesitis in ankylosing spondylitis. Ann Rheum Dis 2003;62(2):127-32.
XVI. C itera G, Maldonado Cocco JA, Moroldo M, Burgos-Vargas R, Anaya J, López I, et al. Validación de la versión en español de los cuestionarios de capacidad funcional BASFI y actividad de la enfermedad BASDAI en pacientes con Espondilitis Anquilosante en cuatro países latinoamericanos. Rev Arg Reumatol 1999;10(1):25.
XVII. Doward L, Spoorerg A, Cook S. Development of the ASQoL: a quality of life instrument speci c to Ankylosing Spondylitis. Ann Rheum Dis 2003;62(1):20-6.
XVIII. van der Heijde D, Lie E, Kvien TK. ASDAS, a highly discriminatory ASAS-endorsed disease activity score in patients with ankylosing spondylitis. Ann Rheum Dis 2009;68(12):1811-8.
XIX. MacKay K, Mack C, Brophy S. The Bath Ankylosing Spondylitis Radiology Index (BASRI): a new, validated approach to disease assessment. Arthritis Rheum 1998;41(12):2263-70.
XX. Creemers M, Franssen M, Van't Hof M, Gribnau F, van de Putte L, van Riel P. Assessment of outcome in ankylosing spondylitis: an extended radiographic scoring system. Ann Rheum Dis 2005;64(1):127-9.
XXI. Sampaio-Barros P, Conde R, Bonfigliolo R, Bértolo M, Samara A. Characterization and outcome of uveitis in 350 patients with spondyloarthropaties. Reumatol Int 2006;26(12):1143-6.
XXII. Zeboulon N, Dougados M, Gossec L. Prevalence and characteristics of uveitis in the spondyloarthropathies: a systematic literature review. Ann Rheum Dis 2008;67(7):955-9.
XXIII. Stolwijk C, van Tubergen A, Castillo-Ortiz J, Boonen A. Prevalence of extra-articular manifestations in patients with ankylosing spondylitis: a systematic review and meta-analysis. Ann Rheum Dis 2015;74(1):65-73.
XXIV. C anouï-Poitrine F, Lekpa F, Farrenq V, Boissinot V, Hacquard-Bouder C, Comet D, et al. Prevalence and factors associated with uveitis in spondylarthritis patients in France: results from an observational survey. Arthritis Care Res 2012;64(6):919-24.
XXV. Carette S, Graham D, Little H, Rubenstein J, Rosen P. The natural disease course of ankylosing spondylitis. Arthritis Rheum 1983;26(2):186-90.
XXVI. Chen C, Lin K, Chen H, Liao H, Liang T, Wang HP, et al. Association of acute anterior uveitis with disease activity, functional ability and physical mobility in patients with ankylosing spondylitis: a cross-sectional study of Chinese patients in Taiwan. Clin Rheumatol 2007;26(6):953-7.
XXVII. va n der Horst-Bruinsma IE, Nurmohamed MT. Management and evaluation of extra-articular manifestations in spondyloarthritis. Ther Adv Musculoskelet Dis 2012;4(6):413-22.
XXVIII. Wendling D, Prati C, Demattei C, Miceli-Richard C, Daures J, Dougados M, et al. Impact of uveitis on the phenotype of patients with recent inflammatory back pain: data from a prospective multicenter French cohort. Arthritis Care Res (Hoboken) 2012;64(7):1089-93.
XXIX. R osenbaum J. Uveitis in spondyloarthritis including psoriatic arthritis, ankylosing spondylitis, and inflammatory bowel disease. Clin Rheumatol 2015;34(6):999-1002.
XXX. Wu D, Guo Y, Xu N, Zhao S, Hou L, Jiao T, et al. Efficacy of anti-tumor necrosis factor therapy for extra-articular manifestations in patients with ankylosing spondylitis: a meta-analysis. BMC Musculoskelet Dis 2015;16:19.
XXXI. Chang J, McCluskey P, Wakefield D. Acute anterior uveitis and HLA-B27. Surv Ophthalmol 2005;50(4):364-88.
XXXII. M uñoz-Fernández S, Hidalgo V, Fernández-Melon J, Schlincker A, Bonilla G, Ruiz-Sancho D, et al. Sulfasalazine reduces the number of flares of acute anterior uveitis over a one-year period. J Rheumatol 2003;30(6):1277-9.
XXXIII. Benitez-Del-Castillo J, Garcia-Sanchez J, Iradier T, Banares A. Sulfasalazine in the prevention of anterior uveitis associated with ankylosing spondylitis. Eye (Lond) 2000;14(Pt 3ª):340-3.
XXXIV. D ougados M, Berenbaum F, Maetzel A, Amor B. Prevention of acute anterior uveitis associated with spondylarthropathy induced by salazosulfapyridine. Rev Rhum Ed Fr 1993;60(1):81-3.
XXXV. M uñoz-Fernández S, García-Aparicio A, Hidalgo M, Platero M, Schlincker A, Bascones ML, et al. Methotrexate: an option for preventing the recurrence of acute anterior uveitis. Eye (Lond) 2009;23(5):1130-3.
XXXVI. B raun J, Baraliakos X, Listing J, Sieper J. Decreased incidence of anterior uveitis in patients with ankylosing spondylitis treated with the anti-tumor necrosis factor agents infliximab and etanercept. Arthritis Rheum 2005;52(8):2447-51.
XXXVII. Rudwaleit M, Rødevand E, Holck P, Vanhoof J, Kron M, Kary S, et al. Adalimumab effectively reduces the rate of anterior uveitis flares in patients with active ankylosing spondylitis: results of a prospective open-label study. Ann Rheum Dis 2009;68(5):696-701.
XXXVIII. Sieper J, Koenig A, Baumgartner S, Wishneski C, Foehl J, Vlahos B, et al. Analysis of uveitis rates a cross all etanercept ankylosing spondylitis clinical trials. Ann Rheum Dis 2010;69(1):226-9.
XXXIX. Rudwaleit M, Rosenbaum JT, Landewé R, Marzo-Ortega H, Sieper J, van der Heijde D, et al. Observed incidence of uveitis following certolizumab pegol treatment in patients with axial spondyloarthritis. Arthritis Care Res (Hoboken) 2016;68(6):838-44.
XL. van Denderen J, Visman I, Nurmohamed M, Suttorp-Schulten M, van der Horst-Bruinsma I. Adalimumab significantly reduces the recurrence rate of anterior uveitis in patients with ankylosing spondylitis. J Rheumatol 2014;41(9):1843-8.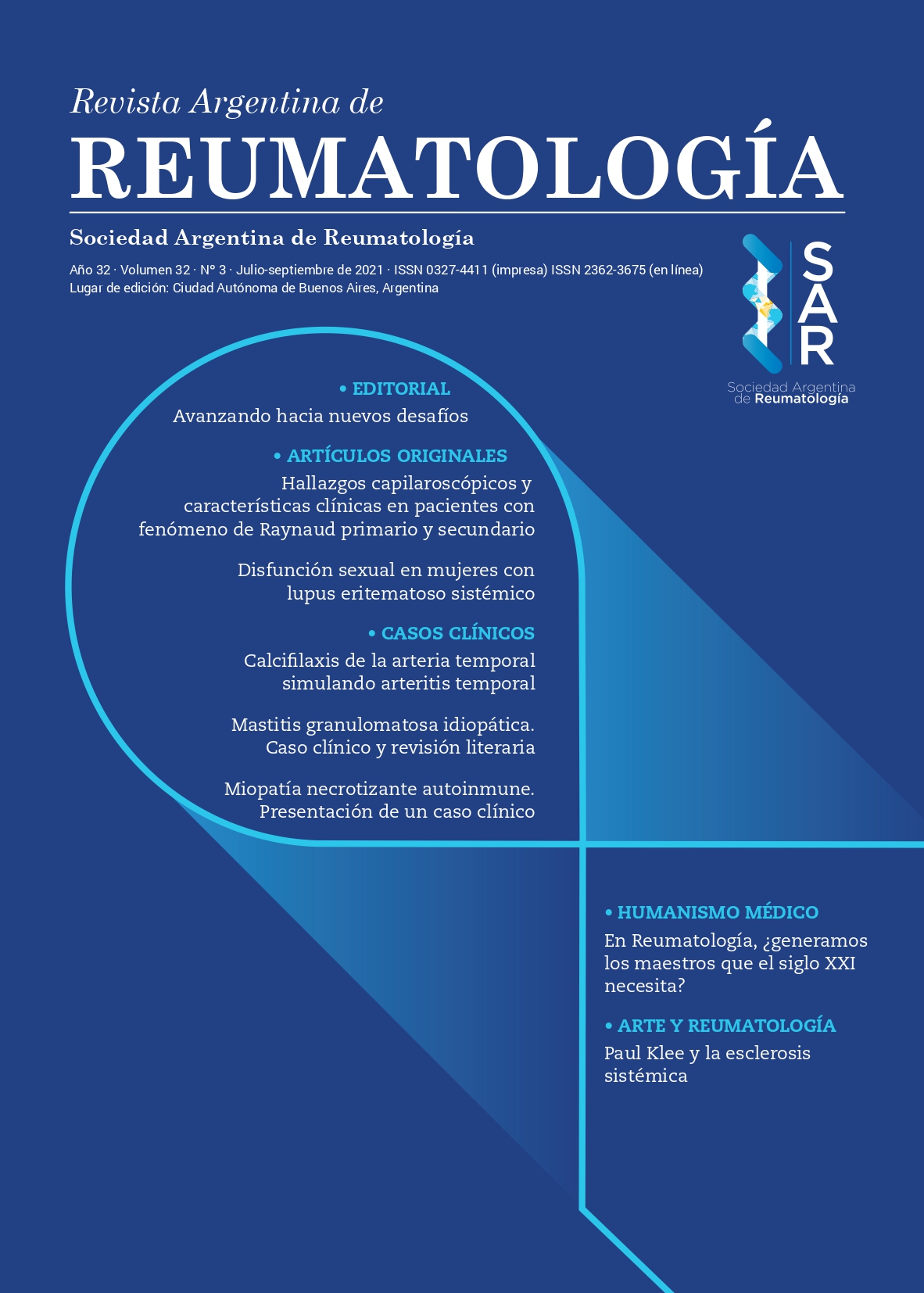 Cómo citar
1.
Capelusnik D, Cavalieri M, Rolón Campuzano R, Schneeberger E, Orozco M, Sommerfleck F, Zamora N, Citera G. Prevalencia y características de uveítis como manifestación extraarticular en Espondiloartritis Axial. Rev. Argent. Reumatol. [Internet]. 1 de septiembre de 2018 [citado 6 de febrero de 2023];29(3):26 -31. Disponible en: https://ojs.reumatologia.org.ar/index.php/revistaSAR/article/view/515
Sección
Artículo Original
Derechos de autor 2018 Sociedad Argentina de Reumatología
Esta obra está bajo licencia internacional
Creative Commons Reconocimiento-NoComercial-SinObrasDerivadas 4.0
.