Patrones de tratamiento, sobrevida y efectividad a largo plazo de agentes biológicos en pacientes con Artritis Psoriásica
M. Fornaro

Instituto de Rehabilitación Psicofísica, Ciudad Autónoma de Buenos Aires, Argentina

F. Dal Para

Instituto de Rehabilitación Psicofísica, Ciudad Autónoma de Buenos Aires, Argentina

E.E. Schneeberger

Instituto de Rehabilitación Psicofísica, Ciudad Autónoma de Buenos Aires, Argentina

O. Cerda

Instituto de Rehabilitación Psicofísica, Ciudad Autónoma de Buenos Aires, Argentina

M. Landi

Instituto de Rehabilitación Psicofísica, Ciudad Autónoma de Buenos Aires, Argentina

M.A. Correa

Instituto de Rehabilitación Psicofísica, Ciudad Autónoma de Buenos Aires, Argentina

R. García Salinas

Hospital Italiano de La Plata, Buenos Aires, Argentina

S. Magri

Hospital Italiano de La Plata, Buenos Aires, Argentina

R. Sueldo

Hospital Padilla, Tucumán, Argentina

M. J. Santa Cruz

Hospital Tornú, Ciudad Autónoma de Buenos Aires, Argentina

E. Buschiazzo

Hospital Señor del Milagro, Salta, Argentina

G. Citera

Instituto de Rehabilitación Psicofísica, Ciudad Autónoma de Buenos Aires, Argentina
Palabras clave:
patrones de tratamiento, sobrevida, efectividad, agentes biológicos, artritis psoriásica
Resumen
Objetivos: evaluar los patrones de tratamiento de las DME-b (drogas modificadoras de la enfermedad-biológicas), su sobrevida acumulada y su eficacia a largo plazo en pacientes con Artritis Psoriásica (APs) utilizando el índice LUNDEX.
Citas
I. Chandran V, Raychaudhuri SP. Geoepidemiology and environmental factors of psoriasis and psoriatic arthritis. J Autoimmun 2010;34(3):314-21.
II. Boehncke WH, Menter A. Burden of disease: psoriasis and psoriatic arthritis. Am J Clin Dermatol 2013;14(5):377-88.
III. Krueger G, Koo J, Lebwohl M, Menter A, Stern RS, Rolstad T. The impact of psoriasis on quality of life: results of a 1998 national psoriasis foundation patient-membership survey. Arch Dermatol 2001; 137(3):280-4.
IV. Ash Z, Gaujoux-Viala C, Gossec L, Hensor EM, FitzGerald O, Winthrop K, et al. A systematic literature review of drug therapies for the treatment of psoriatic arthritis: current evidence and meta-analysis informing the EULAR recommendations for the management of psoriatic arthritis. Ann Rheum Dis 2012;71(3):319-26.
V. Glintborg B, Ostergaard M, Dreyer L, Krogh NS, Tarp U, Hansen MS, et al. Treatment response, drug survival, and predictors thereof in 764 patients with psoriatic arthritis treated with anti-tumor necrosis factor alfa therapy: results from the nationwide Danish DANBIO registry. Arthritis Rheum 2011;63(2):382-90.
VI. Kristensen LE, Gulfe A, Saxne T, Geborek P. Efficacy and tolerability of anti-tumour necrosis factor therapy in psoriatic arthritis patients: results from the South Swedish Arthritis Treatment Group register. Ann Rheum Dis 2008; 67(3):364-9.
VII. Saad AA, Ashcroft DM, Watson KD, Hyrich KL, Noyce PR, Symmons DP. Persistence with anti-tumour necrosis factor therapies in patients with psoriatic arthritis: observational study from the British Society of Rheumatology Biologics Register. Arthritis Res Ther 2009;11:R52.
VIII. Virkki LM, Sumathikutty BC, Aarnio M, Valleala H, Heikkila R, Kauppi M, et al. Biological therapy for psoriatic arthritis in clinical practice: outcomes up to 2 years. J Rheumatol 2010;37(11):2362-8.
IX. Aaltonen K, Heinonen A, Joensuu J, Parmanne P, Karjalainen A, Varjolahti-Lehtinen T, et al. Effectiveness and drug survival of TNF-inhibitors in the treatment of psoriatic arthritis: a prospective cohort study. Semin Arthritis Rheum 2017;46(6):732-9.
X. Heiberg MS, Koldingsnes W, Mikkelsen K, Rodevand E, Kaufmann C, Mowinckel P, et al. The comparative one-year performance of anti-tumor necrosis factor α drugs in patients with rheumatoid arthritis, psoriatic arthritis, and ankylosing spondylitis: results from a longitudinal, observational, multicenter study. Arthritis Care Res 2008;59(2):234-40.
XI. Saad AA, Ashcroft DM, Watson KD, Symmons DP, Noyce PR, Hyrich KL. Efficacy and safety of anti-TNF therapies in psoriatic arthritis: an observational study from the British Society for Rheumatology Biologics Register: reply. Rheumatology 2010;49(4):697-705.
XII. Carmona L, Gómez-Reino JJ. Survival of TNF antagonists in spondylarthritisis better than in rheumatoid arthritis. Data from the Spanish registry BIOBADASER. Arthritis ResTher 2006;8:R72.
XIII. Fagerli KM, Lie E, van der Heijdee D, Heiberg MS, Kalstad S, Rodevand E, et al. Switching between TNF inhibitors in psoriatic arthritis: data from the NOR-DMARD study. Ann Rheum Dis 2013;72(11):1840-4.
XIV. Saougou I, Markatseli TE, Papagoras C, Voulgari PV, Alamanos Y, Drosos AA. Sustained clinical response in psoriatic arthritis patients treated with anti-TNF agents: a 5-year open-label observational cohort study. Semin Arthritis Rheum 2011;40(5):398-406.
XV. Favalli EJ, Selmi C, Becciolini A, Biggioggero M, Ariani A, Santilli D, et al. Eight-year retention rate of first-line tumor necrosis factor inhibitors in spondyloarthritis: a multi-center retrospective analysis. Arthritis Care Res 2017;69(6):867-74.
XVI. Iannone F, Lopriore S, Bucci R, Lopalco G, Chiala A, Cantarini L, et al. Long-term clinical outcomes in 420 patients with psoriatic arthritis taking anti-tumor necrosis factor drugs in real-world settings. J Rheumatol 2016;43(5):911-7.
XVII. Taylor W, Gladman D, Helliwell P, Marchesoni A, Mease P, Mielants H. Classification criteria for psoriatic arthritis: development of new criteria from a large international study. Arthritis Rheum 2006;54(8):2665-73.
XVIII. Gladman DD, Helliwell P, Mease PJ, Nash P, Ritchlin C, Taylor W. Assessment of patients with psoriatic arthritis: a review of currently available measures. Arthritis Rheum 2004;50(1):24–35.
XIX. Gladman DD, Mease PJ, Strand V, Healy P, Helliwell PS, Fitzgerald O, et al. Consensus on a core set of domains for psoriatic arthritis. J Rheumatol 2007 May;34(5):1167-70.
XX. Coates LC, Fransen J, Helliwell PS. Defining minimal disease activity in psoriatic arthritis: a proposed objective target for treatment. Ann Rheum Dis 2010;69(1):48-53.
XXI. Kristensen LE, Saxne T, Geborek P. The LUNDEX, a new index of drug efficacy in clinical practice. Arthritis Rheum 2006; 54(2):600-6.
XXII. Mease PJ, Collier DH, Saunders KC, Li G, Kremer JM, Greenberg JD. Comparative effectiveness of biologic monotherapy versus combination therapy for patients with psoriatic arthritis: results from the Corrona registry. RMD Open 2015;1(1):e000181.
XXIII. Kristensen LE, Lie E, Jacobsson LT, Christensen R, Mease PJ, Bliddal H, Geborek P. Effectiveness and Feasibility Associated witch Switching to a Second or Third TNF Inhibitor in Patients with Psoriatic Arthritis: A Cohort study from Southern Sweden. J Rheumatol 2016;43(1):81-7.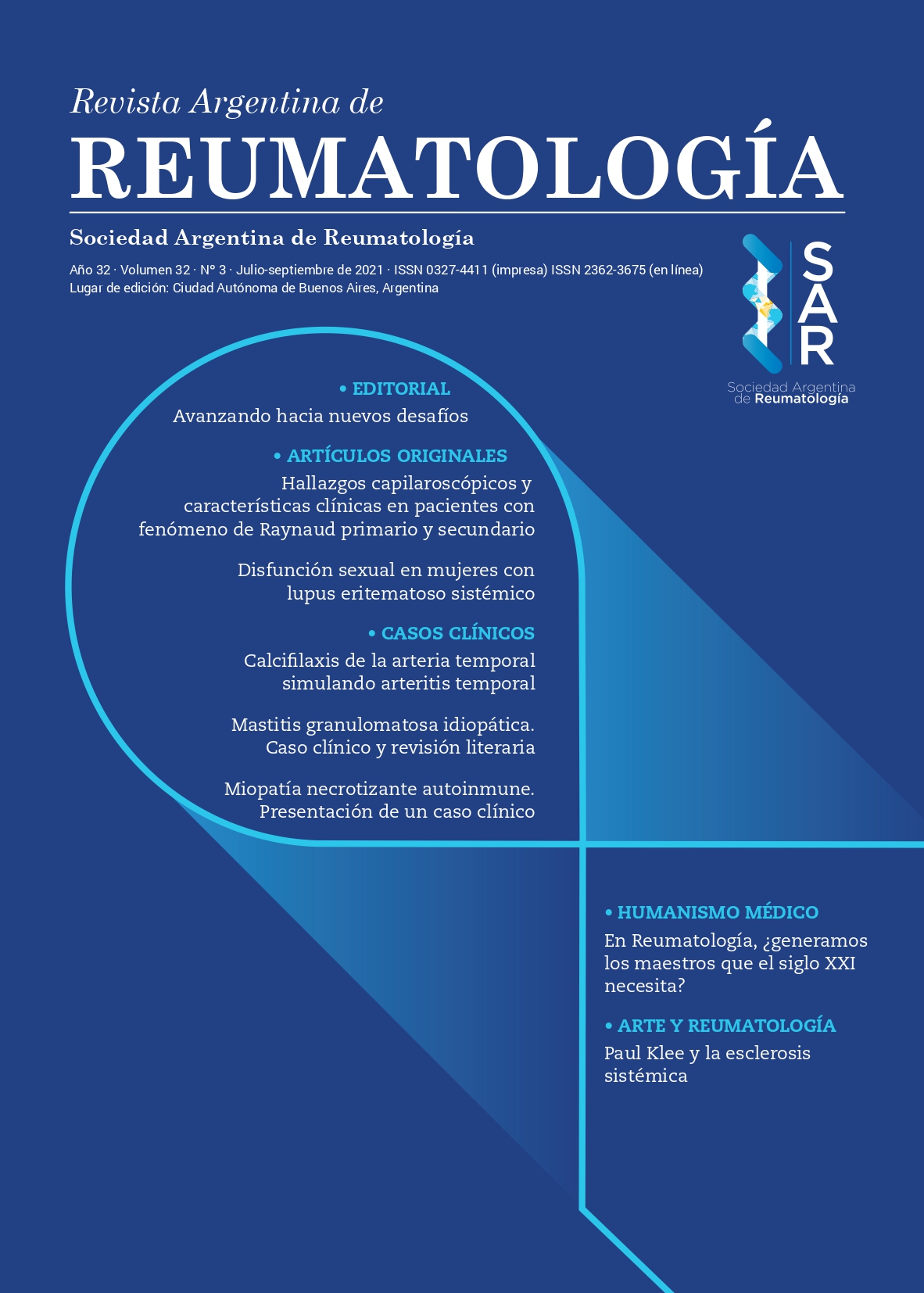 Cómo citar
1.
Fornaro M, Dal Para F, Schneeberger E, Cerda O, Landi M, Correa M, García Salinas R, Magri S, Sueldo R, Santa Cruz MJ, Buschiazzo E, Citera G. Patrones de tratamiento, sobrevida y efectividad a largo plazo de agentes biológicos en pacientes con Artritis Psoriásica. Rev. Argent. Reumatol. [Internet]. 1 de septiembre de 2018 [citado 6 de febrero de 2023];29(3):18 -23. Disponible en: https://ojs.reumatologia.org.ar/index.php/revistaSAR/article/view/514
Sección
Artículo Original
Derechos de autor 2018 Sociedad Argentina de Reumatología
Esta obra está bajo licencia internacional
Creative Commons Reconocimiento-NoComercial-SinObrasDerivadas 4.0
.