Policondritis recidivante como fenómeno paraneoplásico en paciente con síndrome mielodisplásico
Nadia Riscanevo

Hospital Privado Universitario de Córdoba, Córdoba, Argentina

Diego Baenas

Hospital Privado Universitario de Córdoba, Córdoba, Argentina

Janet Flores

Hospital Privado Universitario de Córdoba, Córdoba, Argentina

Francisco Caeiro

Hospital Privado Universitario de Córdoba, Córdoba, Argentina

Verónica Saurit

Hospital Privado Universitario de Córdoba, Córdoba, Argentina

Alejandro Alvarellos

Hospital Privado Universitario de Córdoba, Córdoba, Argentina

Juan Pablo Pirola

Hospital Privado Universitario de Córdoba, Córdoba, Argentina

Julieta Olmedo

Hospital Privado Universitario de Córdoba, Córdoba, Argentina

Gastón Caeiro

Hospital Privado Universitario de Córdoba, Córdoba, Argentina
Palabras clave:
Síndrome mielodisplásico, Policondritis recidivante, Síndrome paraneoplásico
Resumen
Los síndromes mielodisplásicos son un grupo heterogéneo de enfermedades hematológicas, caracterizadas por hematopoyesis ineficaz con riesgo de progresión a leucemia mieloide aguda. Pueden asociarse a manifestaciones autoinmunes en un 10-30% de los pacientes, apareciendo antes, durante o luego del diagnóstico del trastorno hematológico. La prevalencia de policondritis recidivante como fenómeno paraneoplásico es de 0,7-5,4%, presentándose de forma simultánea en la mayoría de los casos. Otros procesos autoinmunes asociados incluyen: vasculitis sistémica, poliartritis seronegativa, dermatosis neutrofílica, citopenias inmunomediadas, presencia de autoanticuerpos y crioglobulinemia. Reportamos el caso de una mujer de 60 años, sin antecedentes patológicos previos, que presentó un cuadro de policondritis recidivante y vasculitis sistémica asociadas a síndrome mielodisplásico.
Citas
I. Arber DA, Orazi A, Hasserjian R, Thiele J, Borowitz MJ, Le Beau MM, et al. The 2016 revision to the World Health Organization classification of myeloid neoplasms and acute leukemia. Blood 127:2391-2405, 2016.
II. de Hollanda A, Beucher A, Henrion D, Ghali A, Lavigne C, Lévesque H, et al. Systemic and immune manifestations in myelodysplasia: a multicenter retrospective study. Arthritis Care Res (Hoboken) 2011; 63:1188-94.
III. Mekinian A, Grignano E, Braun T, Decaux O, Liozon E, Costedoat-Chalumeau N, et al. Systemic inflammatory and autoimmune manifestations associated with myelodysplastic syndromes and chronic myelomonocytic leukaemia: A French multicentre retrospective study. Rheumatology (Oxford). 2016; 55, 291-300.
IV. Komrokji RS, Kulasekararaj A, Al Ali NH, Kordasti S, Bart-Smith E, Craig BM, et al. Autoimmune diseases and myelodysplastic syndromes. Am J Hematol. 2016 May;91(5):E280-3
V. Lambert C, Wu Y, Aanei C. Bone Marrow Immunity and Myelodysplasia. Front Oncol. 2016;6: 172.
VI. Saif MW, Hopkins JL, Gore SD. Autoimmune Phenomena in Patients with Myelodysplastic Syndromes and Chronic Myelomonocytic Leukemia. Leuk Lymphoma. 2002 Nov;43(11):2083-92.
VII. Giannouli S, Voulgarelis M, Zintzaras E, Tzioufas AG, Moutsopoulos HM. Autoimmune phenomena in myelodysplastic syndromes: a 4-yr prospective study. Rheumatology (Oxford) 2004; 43:626 –32.
VIII. Kennedy JA, Ebert BL. Clinical Implications of Genetic Mutations in Myelodysplastic Syndrome. Journal of Clinical Oncology 2017 35:9, 968-974.
IX. Mathian A, Miyara M, Cohen-Aubart F, Haroche J, Hie M, Pha M, et al. Relapsing polychondritis: A 2016 update on clinical features, diagnostic tools, treatment and biological drug use. Best Pract Res Clin Rheumatol. 2016 Apr;30(2):316-333.
X. Micheva I, Thanopoulou E, Michalopoulou S, Karakantza M, Kouraklis-Symeonidis A, Mouzaki A, et al. Defective tumor necrosis factor alpha-induced maturation of monocyte-derived dendritic cells in patients with myelodysplastic syndromes. Clin Immunol 2004; 113(December (3)):310–7.
XI. Kemta Lekpa F, Kraus VB, Chevalier X. Biologics in Relapsing Polychondritis: A Literature Review. Semin Arthritis Rheum. 2012 Apr;41(5):712-9
XII. Leroux G, Costedoat-Chalumeau N, Brihaye B, Cohen-Bittan J, Amoura Z, Haroche J, et al.Treatment of relapsing polychondritis with rituximab: a retrospective study of nine patients. Arthritis Rheum 2009;61:577-82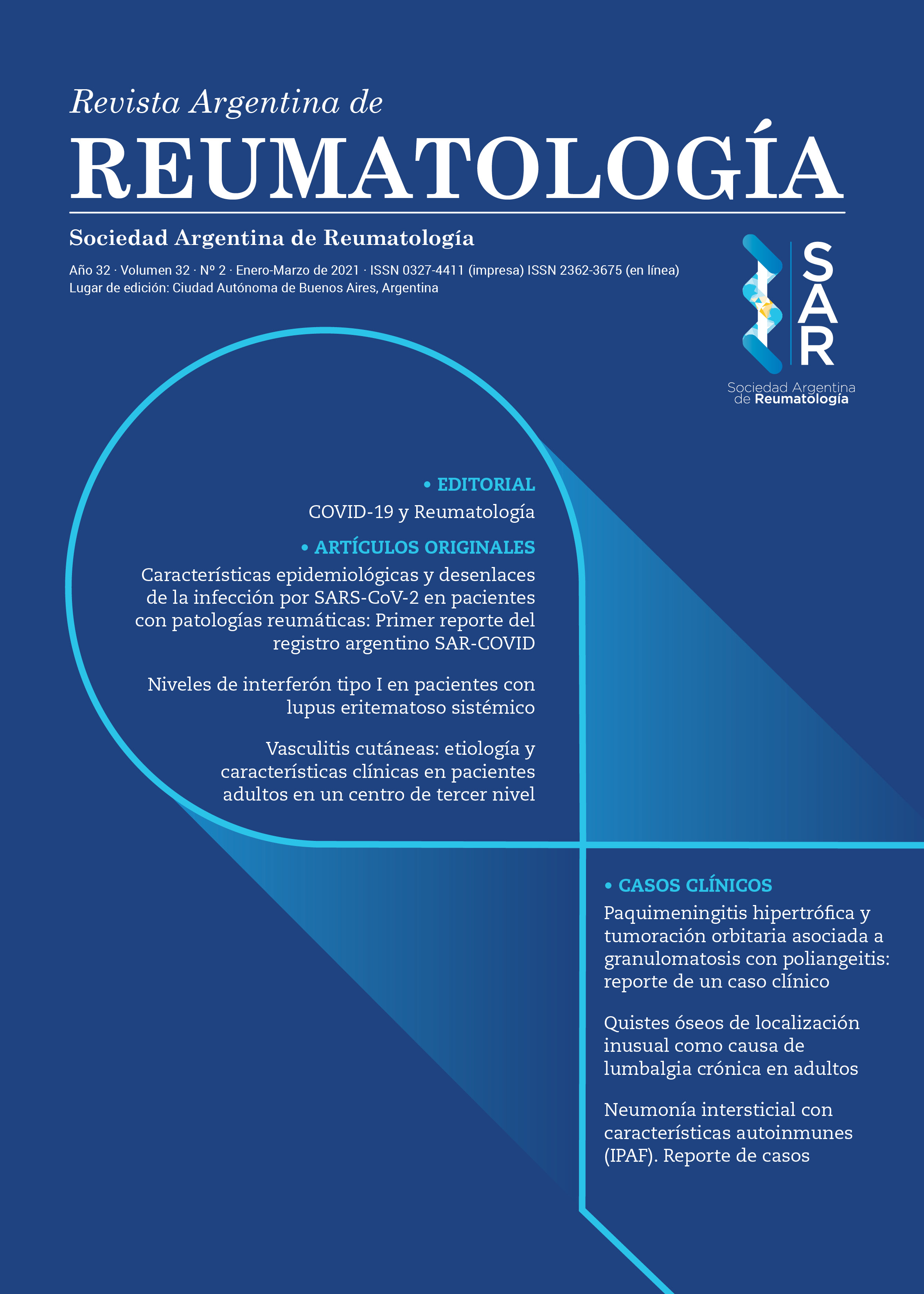 Cómo citar
1.
Riscanevo N, Baenas D, Flores J, Caeiro F, Saurit V, Alvarellos A, Pirola JP, Olmedo J, Caeiro G. Policondritis recidivante como fenómeno paraneoplásico en paciente con síndrome mielodisplásico. Rev. Argent. Reumatol. [Internet]. 1 de junio de 2020 [citado 30 de enero de 2023];31(2):42 -44. Disponible en: https://ojs.reumatologia.org.ar/index.php/revistaSAR/article/view/414
Derechos de autor 2020 A nombre de los autores. Derechos de reproducción: Sociedad Argentina de Reumatología
Esta obra está bajo licencia internacional
Creative Commons Reconocimiento-NoComercial-SinObrasDerivadas 4.0
.