Poliartritis séptica: presentación de tres casos
Nadia Riscanevo

Hospital Privado Universitario de Córdoba, Córdoba, Argentina

Elisa Novatti

Hospital Privado Universitario de Córdoba, Córdoba, Argentina

Janet Flores

Hospital Privado Universitario de Córdoba, Córdoba, Argentina

Diego Baenas

Hospital Privado Universitario de Córdoba, Córdoba, Argentina

Francisco Caeiro

Hospital Privado Universitario de Córdoba, Córdoba, Argentina

Verónica Saurit

Hospital Privado Universitario de Córdoba, Córdoba, Argentina

Cecilia Álvarez

Hospital Privado Universitario de Córdoba, Córdoba, Argentina

Alejandro Alvarellos

Hospital Privado Universitario de Córdoba, Córdoba, Argentina
Palabras clave:
Artritis séptica poliarticular, Artritis reumatoidea, líquido sinovial
Resumen
La artritis séptica poliarticular se define como la infección de dos o más articulaciones, casi siempre de etiología bacteriana y diseminación hematógena. Es considerada una emergencia médica, lo que conlleva reconocerla precozmente, evitar la diseminación de la infección asociada con alta mortalidad y el riesgo de daño estructural articular. Presentamos tres casos de artritis séptica poliarticular, destacándose la importancia de la sospecha clínica y el estudio temprano del líquido sinovial para el diagnóstico y el tratamiento con antimicrobianos, evacuación y lavado articular.
Citas
I. García-Arias M, Balsa A, Mola EM. Septic arthritis. Best Practice & Research Clinical Rheumatology 2011; 25:407-21.
II. Lin YC, Chen WS, Lin HY. Acute arthritis in the elderly: differential diagnosis and treatment. International Journal of Gerontology. September 2008; Vol 2, No 3.
III. Christodoulou C, Gordon P, Coakley G. Polyarticular septic arthritis. BMJ 2006; 333: 1,107–1,108.
IV. Dubost JJ, Fis I, Denis P, Lopitaux R, Soubrier M, Ristori JM, et al. Polyarticular septic arthritis. Medicine (Baltimore). 1993 Sep;72(5):296-310.
V. . Lieber SB, Fowler ML, Zhu C, Moore A, Shmerling RH, Paz Z. Clinical Characteristics and Outcomes in Polyarticular Septic Arthritis. Joint Bone Spine. 2018 Jul;85(4):469-473.
VI. Shirtliff ME, Mader JT. Acute Septic Arthritis. Clin Microbiol Rev. 2002 Oct; 15(4): 527–544.
VII. Ferrand J, Samad YE, Brunschweiler B , Grados F , Dehamchia-Rehailia N, Séjourne A , et al. Morbimortality in adult patients with septic arthritis: a three-year hospital-based study. BMC Infect Dis. 2016; 16: 239.
VIII. Mateo-Soria L, Olivé-Marqués A, García-Casares E, García-Melchor E, Holgado-Pérez S, Tena-Marsà X. Polyarticular Septic Arthritis: Analysis of 19 Cases. Reumatol Clin. 2009;5(1):18-22.
IX. Forestier E, Fraisse T, Roubaud-Baudron C, Selton-Suty C, Pagani L. Managing infective endocarditis in the elderly: new issues for an old disease. Clinical Interventions in Aging 2016:11 1199–1206 https://www.ncbi.nlm.nih.gov/pmc/articles/PMC5015881/pdf/cia-11-1199.pdf
X. Favero M, Schiavon F, Riato L, Carraro V, Punzi L. Rheumatoid arthritis is the major risk factor for septic arthritis in rheumatological settings. Autoimmunity Reviews 8 (2008) 59–61. https://www.ncbi.nlm.nih.gov/pubmed/18706527
XI. Pawar A, Desai RJ, Gautam N, Kim SC. Risk of admission to hospital for serious infection after initiating tofacitinib versus biologic DMARDs in patients with rheumatoid arthritis: a multidatabase cohort study. Lancet Rheumatol 2020; published online Jan 13.
XII. Youssef J, Novosad SA, Winthrop KL. Infection Risk and Safety of Corticosteroid Use. Rheum Dis Clin North Am. 2016 February; 42(1): 157–176.
XIII. M, Seriolo B, Pizzorni C, Secchi ME, Soldano S, Paolino S, et al. Use of glucocorticoids and risk of infections. Autoimmunity Reviews 8 (2008) 153–155.
XIV. Mankin HJ. Nontraumatic necrosis of bone (osteonecrosis). N Engl J Med. 1992 May 28;326(22):1473-9.
XV. Aim F, Delambre J, Bauer T, Hardy P. Efficacy of arthroscopic treatment for resolving infection in septic arthritis of native joints. Orthop Traumatol Surg Res 2015; 101(1):61–4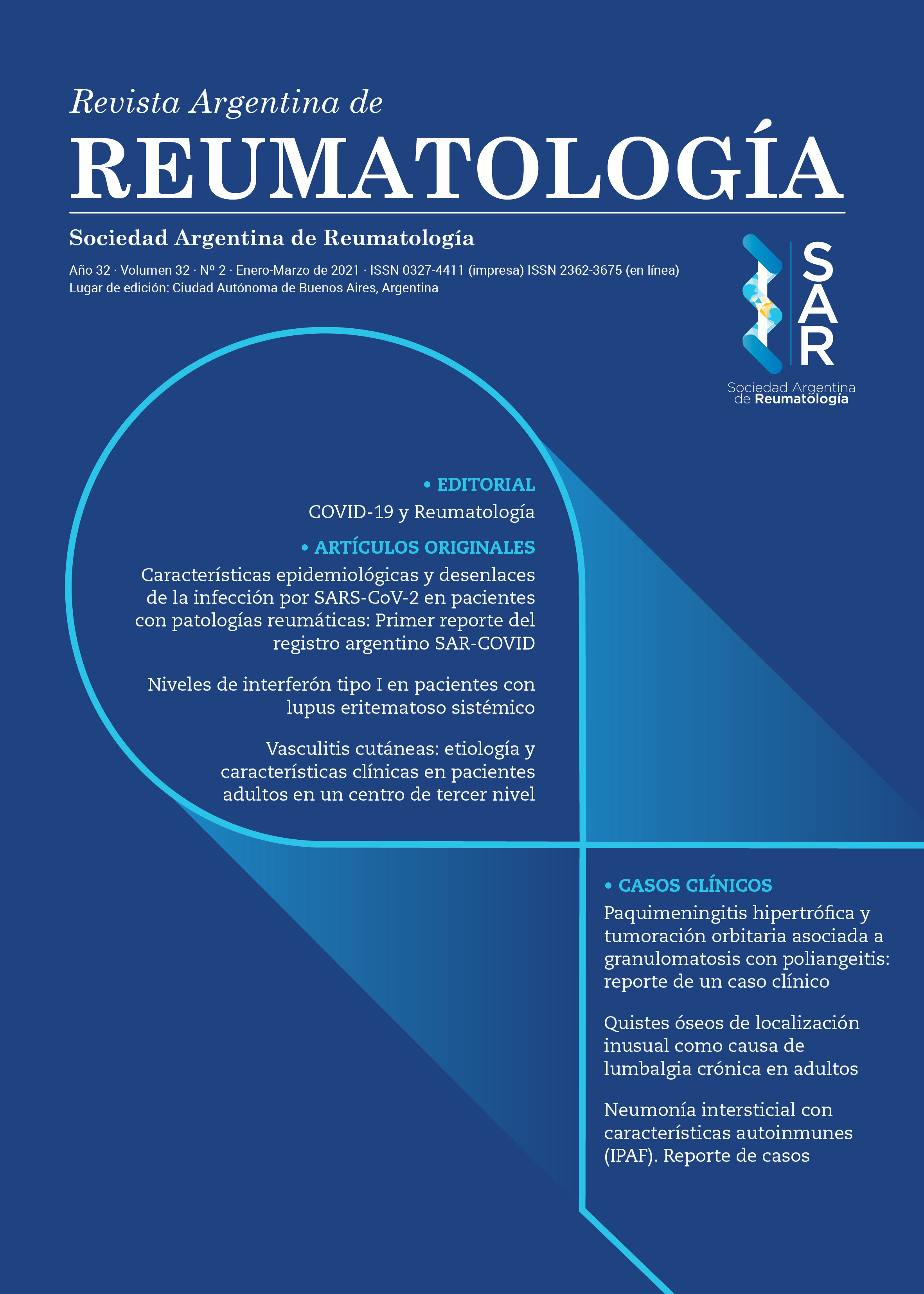 Cómo citar
1.
Riscanevo N, Novatti E, Flores J, Baenas D, Caeiro F, Saurit V, Álvarez C, Alvarellos A. Poliartritis séptica: presentación de tres casos. Rev. Argent. Reumatol. [Internet]. 1 de septiembre de 2020 [citado 27 de septiembre de 2023];31(3):32 -35. Disponible en: https://ojs.reumatologia.org.ar/index.php/revistaSAR/article/view/393
Derechos de autor 2020 A nombre de los autores. Derechos de reproducción: Sociedad Argentina de Reumatología
Esta obra está bajo licencia internacional
Creative Commons Reconocimiento-NoComercial-SinObrasDerivadas 4.0
.