Actualización sobre el uso de los cannabinoides medicinales en enfermedades reumáticas
Darío Scublinsky

Facultad de Medicina, Universidad de Buenos Aires, Ciudad Autónoma de Buenos Aires, Argentina
Palabras clave:
cannabis, canabis, cannabinoides, artritis, fibromialgia, esclerosis sistémica
Resumen
La marihuana medicinal ha sido propuesta en los últimos años como una solución a algunos problemas médicos refractarios a otros tratamientos. El dolor crónico es un síntoma habitual entre los pacientes que consultan al reumatólogo. Distintas enfermedades pueden verse involucradas en este pan-sindrome que engloba desde enfermedades autoinmunes, síndromes dolorosos locorregionales, enfermedades degenerativas hasta desórdenes con componentes psicológicos. En muchos de estos casos, sobre todo los dos últimos, las intervenciones farmacológicas no siempre son eficaces o seguras en el corto, mediano o largo plazo.
Citas
I. https://www.britannica.com/science/marijuana
II. Mechoulam R, Shani A., Edery H., Grunfeld Y. The chemical basis of hashish activity. Science, 1970; 169, 611-612.
III. Gaoni Y, Mechoulam R. Isolation and structure of Delta tetrahydrocannabinol and other neutral cannabinoids from hashish. J. Am. Chem. Soc. 1971; 93, 1, 217–224
IV. https://www.boletinoficial.gob.ar/detalleAviso/primera/237208/20201112
V. Fitzcharles MA, Baerwald C, Ablin J, Häuser W. Efficacy, tolerability and safety of cannabinoids in chronic pain associated with rheumatic diseases (fibromyalgia syndrome, back pain, osteoarthritis, rheumatoid arthritis): A systematic review of randomized controlled trials. Schmerz. 2016 Feb;30(1):47-61. doi: 10.1007/s00482-015-0084-3.
VI. Fitzcharles MA, Ste-Marie PA, Häuser W, Clauw DJ, Jamal S, Karsh J, Landry T, Leclercq S, Mcdougall JJ, Shir Y, Shojania K,Walsh Z. Efficacy, Tolerability, and Safety of Cannabinoid Treatments in the Rheumatic Diseases: A Systematic Review of Randomized Controlled Trials. Arthritis Care Res (Hoboken). 2016 May;68(5):681-8. doi: 10.1002/acr.22727.
VII. Walitt B, Klose P, Fitzcharles MA, Phillips T, Häuser W. Cannabinoids for fibromyalgia.Cochrane Database Syst Rev. 2016 Jul 18;7:CD011694. doi:10.1002/14651858.CD011694.pub2.
VIII. Koroschetz J, Rehm SE, Gockel U, et al. Fibromyalgia and neuropathic pain-differences and similarities. A comparison of 3057 patients with diabetic painful neuropathy and fibromyalgia. BMC Neurol. 2011;11:55. doi: 10.1186/1471-2377-11-55.
IX. Maletic V, Raison CL. Neurobiology of depression, fibromyalgia and neuropathic pain. Front Biosci (Landmark Ed) 2009;14:5291–338. doi: 10.2741/3598.
X. Macfarlane GJ, Kronisch C, Dean LE, et al. EULAR revised recommendations for the management of fibromyalgia. Ann Rheum Dis. 2017;76:318–28. doi: 10.1136/annrheumdis-2016-209724.
XI. Fitzcharles M-A, Faregh N, Ste-Marie PA, Shir Y. Opioid use in fibromyalgia is associated with negative health related measures in a prospective cohort study. Pain Res Treat. 2013;2013:7. doi: 10.1155/2013/898493.
XII. Attal N, Cruccu G, Baron R, et al. EFNS guidelines on the pharmacological treatment of neuropathic pain: 2010 revision. Eur J Neurol. 2010;17:1113–e88. doi: 10.1111/j.1468-1331.2010.02999.x.
XIII. Fiz J, Durán M, Capellà D, Carbonell J, Farré M. Cannabis use in patients with fibromyalgia: effect on symptoms relief and health-related quality of life. PLoS One. 2011;6:e18440. doi: 10.1371/journal. pone.0018440.
XIV. Sagy I, Bar-Lev Schleider L, AbuShakra M, Novack V. Safety and efficacy of medical cannabis in fibromyalgia. J Clin Med. 2019;8:807. doi: 10.3390/jcm8060807.
XV. Habib G, Artul S. Medical cannabis for the treatment of fibromyalgia. J Clin Rheumatol. 2018;24:255–8. doi: 10.1097/rhu.0000000000000702.
XVI. Habib G, Avisar I. The consumption of cannabis by fibromyalgia patients in Israel. Pain Res Treat. 2018 Jul 22; doi: 10.1155/2018/7829427. Article ID 7829427.
XVII. van de Donk T, Niesters M, Kowal MA, Olofsen E, Dahan A, van Velzen M. An experimental randomized study on the analgesic effects of pharmaceutical-grade cannabis in chronic pain patients with fibromyalgia. Pain. 2019;160:860–9. doi: 10.1097/j. pain.0000000000001464.
XVIII. Katz-Talmor D, Katz I, Porat-Katz B-S, Shoenfeld Y. Cannabinoids for the treatment of rheumatic diseases — where do we stand? Nat Rev Rheumatol. 2018;14:488–98. doi: 10.1038/s41584-018-0025-5.
XIX. Richardson D, Pearson RG, Kurian N, et al. Characterisation of the cannabinoid receptor system in synovial tissue and fluid in patients with osteoarthritis and rheumatoid arthritis. Arthritis Res Ther. 2008;10:R43. doi: 10.1186/ar2401.
XX. Lowin T, Pongratz G, Straub RH. The synthetic cannabinoid WIN55,212-2 mesylate decreases the production of inflammatory mediators in rheumatoid arthritis synovial fibroblasts by activating CB2, TRPV1, TRPA1 and yet unidentified receptor targets. J Inflamm (Lond) 2016;13:15. doi: 10.1186/s12950-016-0114-7.
XXI. Malfait AM, Gallily R, Sumariwalla PF, et al. The nonpsychoactive cannabis constituent cannabidiol is an oral anti-arthritic therapeutic in murine collagen-induced arthritis. Proc Natl Acad Sci U S A. 2000;97:9561–6. doi: 10.1073/pnas.160105897.
XXII. Fukuda S, Kohsaka H, Takayasu A, et al. Cannabinoid receptor 2 as a potential therapeutic target in rheumatoid arthritis. BMC Musculoskelet Disord. 2014;15:275. doi: 10.1186/1471-2474-15-275.
XXIII. Blake DR, Robson P, Ho M, Jubb RW, McCabe CS. Preliminary assessment of the efficacy, tolerability and safety of a cannabis-based medicine (Sativex) in the treatment of pain caused by rheumatoid arthritis. Rheumatology (Oxford) 2006;45:50–2. doi: 10.1093/rheumatology/kei183.
XXIV. Sophocleous A, Börjesson AE, Salter DM, Ralston SH. The type 2 cannabinoid receptor regulates susceptibility to osteoarthritis in mice. Osteoarthritis Cartilage. 2015;23:1586–94. doi: 10.1016/j. joca.2015.04.020.
XXV. Huggins JP, Smart TS, Langman S, Taylor L, Young T. An efficient randomised, placebo-controlled clinical trial with the irreversible fatty acid amide hydrolase-1 inhibitor PF-04457845, which modulates endocannabinoids but fails to induce effective analgesia in patients with pain due to osteoarthritis of the knee. Pain. 2012;153:1837–46. doi: 10.1016/j.pain.2012.04.020.
XXVI. O'Brien M, McDougall JJ. Cannabis and joints: scientific evidence for the alleviation of osteoarthritis pain by cannabinoids. Curr Opin Pharmacol. 2018;40:104–9. doi: 10.1016/j.coph.2018.03.012.
XXVII. Katchan V, David P, Shoenfeld Y. Cannabinoids and autoimmune diseases: a systematic review. Autoimmun Rev. 2016;15:513–28. doi: 10.1016/j.autrev.2016.02.008.
XXVIII. Servettaz A, Kavian N, Nicco C, et al. Targeting the cannabinoid pathway limits the development of fibrosis and autoimmunity in a mouse model of systemic sclerosis. Am J Pathol. 2010;177:187–96. doi: 10.2353/ajpath.2010.090763.
XXIX. Nogueira AR, Shoenfeld Y, Amital H. Cannabis sativa as a potential treatment for systemic sclerosis. Isr Med Assoc J. 2019;21:217–18.
XXX. National Academies of Sciences, Engineering, and Medicine. The Health Effects of Cannabis and Cannabinoids: The Current State of Evidence and Recommendations for Research. Washington, DC: The National Academies Press; 2017.
XXXI. Lynch ME, Ware MA. Cannabinoids for the treatment of chronic non-cancer pain: an updated systematic review of randomized controlled trials. J Neuroimmune Pharmacol. 2015;10:293–301. doi: 10.1007/s11481-015-9600-6.
XXXII. Häuser W, Petzke F, Fitzcharles MA. Efficacy, tolerability and safety of cannabis-based medicines for chronic pain management – an overview of systematic reviews. Eur J Pain. 2018;22:455–70. doi: 10.1002/ejp.1118.
XXXIII. Stockings E, Campbell G, Hall WD, et al. Cannabis and cannabinoids for the treatment of people with chronic noncancer pain conditions: a systematic review and meta-analysis of controlled and observational studies. Pain. 2018;159:1932–54. doi: 10.1097/j. pain.0000000000001293.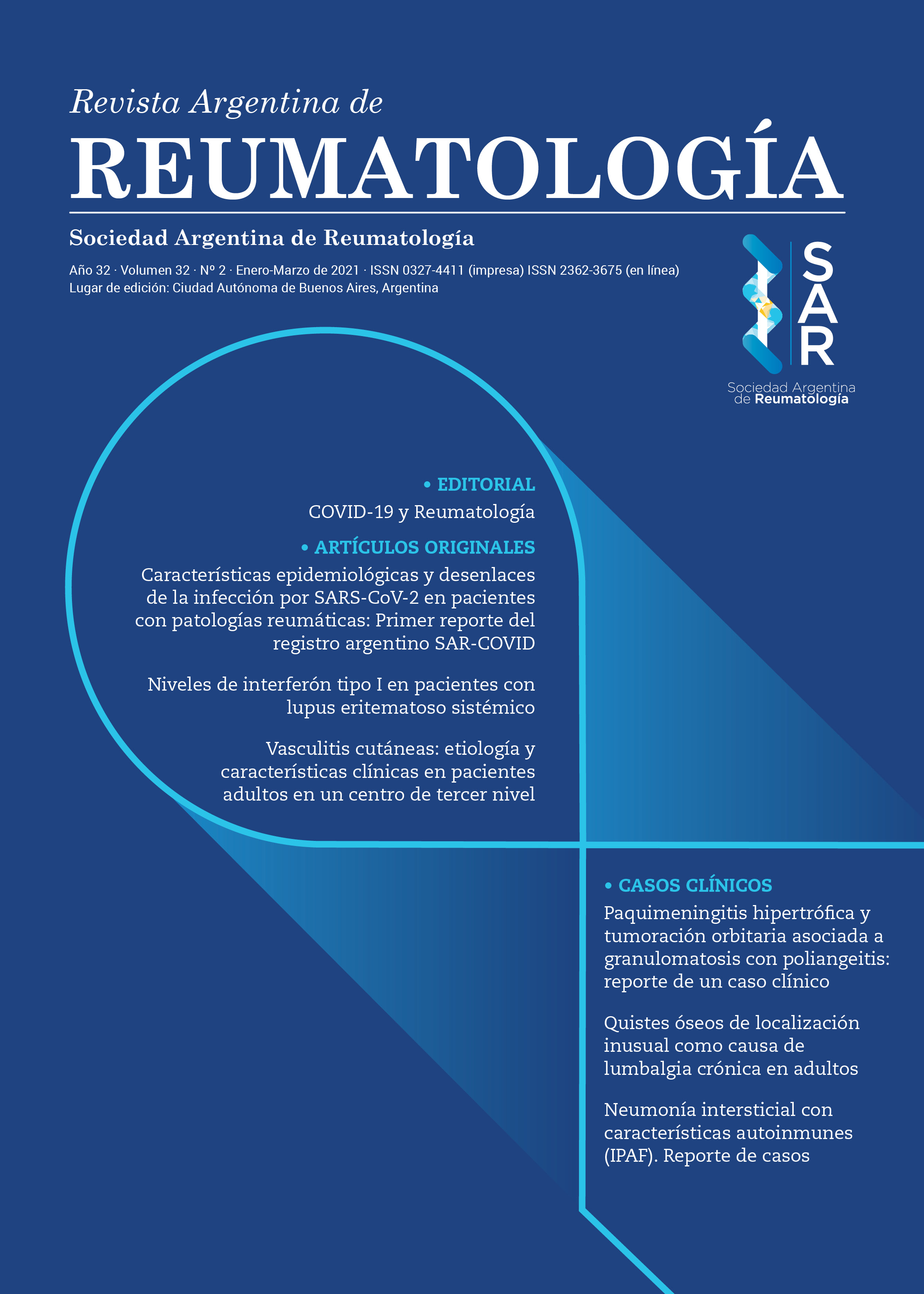 Cómo citar
1.
Scublinsky D. Actualización sobre el uso de los cannabinoides medicinales en enfermedades reumáticas. Rev. Argent. Reumatol. [Internet]. 1 de diciembre de 2020 [citado 30 de enero de 2023];31(4):25 -29. Disponible en: https://ojs.reumatologia.org.ar/index.php/revistaSAR/article/view/384
Derechos de autor 2021 Sociedad Argentina de Reumatología
Esta obra está bajo licencia internacional
Creative Commons Reconocimiento-NoComercial-SinObrasDerivadas 4.0
.